Caitlin crowned Rotary Young Chef 2010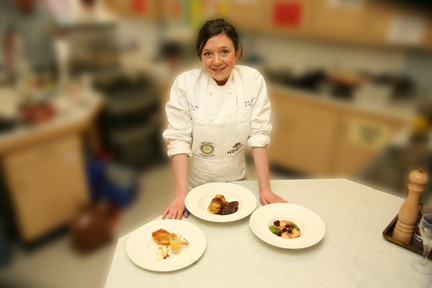 Photograph: Caitlin shows her winning menu. Photo by Jeff Gowler of ARM Photography.
Caitlin Grainger from Inverness is celebrating after winning Rotary Young Chef 2010.
Her three course menu wowed the judging panel. Judge, David Marriott, said: "Caitlin's performance, organisational skills and presentation were steady throughout the competition. She really impressed all of us."
As part of her prize for winning Rotary Young Chef 2010, run in association with Filippo Berio, the aspiring young chef from Charleston Academy will visit Filippo Berio's famous olive groves in Italy to gain a full understanding of Mediterranean cooking and the key role olive oil plays within it.
Caitlin will also be treated to a one-day cookery session alongside Michelin starred Phil Thompson at Auberge Du Lac in Hertfordshire. Executive Chef Phil Thompson worked alongside Marco Pierre White at The Oak Room and took over at Auberge from Jean-Christophe Novelli.
Caitlin said: "Winning Rotary Young Chef is a dream come true. I love cooking and this competition has been great fun from start to finish. I got into cooking thanks to my Dad. I've just grown up around cooking.
"I'm not sure yet what the future holds. I plan to finish school and see what happens next. I am very thankful for the opportunity Rotary Young Chef has given me."
It was touch and go whether Caitlin and her support team from the Rotary Club of Loch Ness would make it to Chichester for the national final. Flight cancellations at Inverness Airport meant a lengthy journey by train to Aberdeen, a flight to Gatwick and a taxi ride.
David Fowler, President of Rotary International in Great Britain and Ireland, presented Caitlin with her trophy: "Everyone here has proved that they have passion, skill and talent for cooking. All are winners in their own right having come through the regional heats and made it to being the final eight out of 4,000 competitors. I would say three words sum up this wonderful competition; Enthusiasm, enjoyment and encouragement.
"RIBI offers many opportunities for youngsters to develop skills and display their talents. Rotary Youth Speaks, Young Photographer, Young Musician, Interact and Rotaract are just a few of the options available. I would like to think that our chefs here today will think about perhaps forming their own Interact club at school and inspire more youngsters to take part in activities."
Caitlin's winning three-course menu:
Starter: Crowdie and chive ravioli with red chard and roast beetroot dressing.
Main: Loin of venison with millefeuille potatoes, mashed carrot and swede with red wine jus.
Dessert: Pear tarte tatin with mascarpone cream and orange granita.
The winning meal was picked by a panel of experienced judges, including last year's Rotary Young Chef winner Hailey Vickers: "The flavours packed into every dish was amazing. Well done to everyone, it was a very close competition".
Richard Walker, MD of Wild Harvest and a judge said: "Every competitor here is more than worthy of working in a Michelin star restaurant without a doubt. The professionalism is outstanding."
In second place was Jack Bowden of Worthing.
Scooping third place was Stephanie Jones of Dorchester.