RIBI Young Musician final at Longfield Academy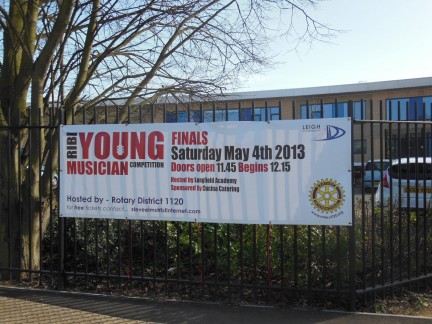 Budding young musicians are preparing for the performance of a lifetime when they descend on Longfield Academy on 4th May for the final of the RIBI Young Musician competition.
Sponsored by local Rotary clubs, 16 young people will take part in the finals of this nationwide competition which is now in its tenth year. They have already succeeded in winning their own club competitions, District competitions and representing their Districts in regional finals, so for them this is the end of a long road.
Stewart Grainger, District Governor of District 1120 said: "These finalists are all very talented and we hope that they will enjoy the experience. We are extremely proud to welcome them to the brand new Longfield Academy and its assembly hall; it is a really first-class setting for this event."
The finalists will take part in either the instrumentalist or vocalist categories with performances lasting no longer than ten minutes. The contest is for those who love music and are playing at amateur level. Professionals and those studying music full time are not permitted to enter.
RIBI Young Musician is one of many opportunities which RIBI provides for young people. These include RotaKids, Interact, Rotaract, Rotary Youth Exchange and the Rotary Youth Leadership Awards. There are also many more activities to explore and enjoy.
By joining a Rotary club you can make new friends and make a difference in your community. District 1120 has 85 Rotary clubs and many towns have Rotaract and Interact clubs too.