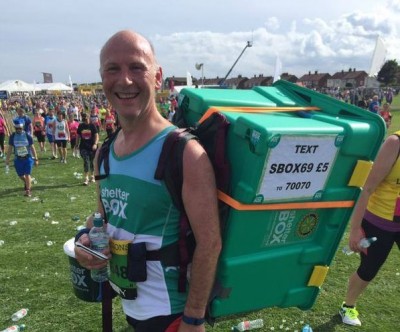 At the start of the year, people often set themselves targets to get active, but Colin Bell, a member of the Rotary Club of Bodmin has recently completed a year-long challenge of epic proportions.
Colin aimed to run 2015 km during 2015, and if that wasn't ambitious enough, he completed lots of it with a Shelterbox strapped to his back, all to raise money for the charity.
The miles have been accumulated by taking part in fun runs, challenges and full length marathons right across the country, with Colin's total distance equating to 48 marathons over the course of the year.
Despite being hampered by an injury as 2015 came to a close, leaving him just 50 km short of his target, Colin was far from deterred and completed the final stage of his challenge on 26th January 2016, after walking across Cornwall, from his home in Bodmin to ShelterBox HQ in Helston.
Colin commented: "The reception I've had has been wonderful. People know about the charity and the great work they do. If there are families in need of emergency shelter, ShelterBox does everything it can to help them rebuild their lives."
ShelterBox is a disaster relief charity providing large plastic containers filled with essential items, such as tents thermal blankets and cooking equipment, for families who have been displaced following disasters. Colin's fundraising total, currently amounting to over £1,200 is enough to provide two of these potentially lifesaving boxes.
Rotary International in Great Britain and Ireland recently renewed the project partnership with ShelterBox to continue until at least 2019, and Colin's efforts are further evidence of our members' appetite to support this cause.
Published: Thursday 28th January 2016