Billy Bow's Big Scarecrow Adventure – Rotary Good News Week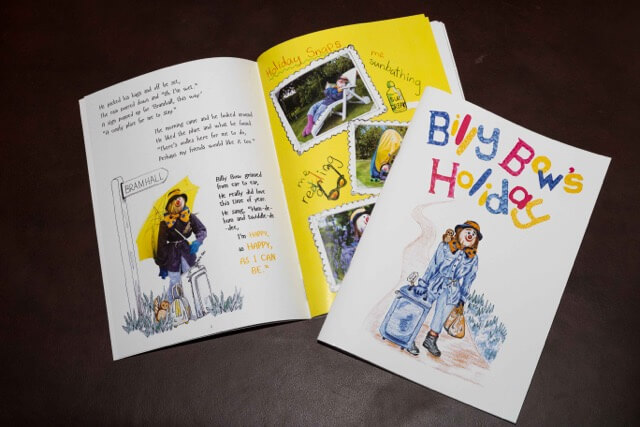 The adventures of Billy Bow, Bramhall and Woodford Rotary Club's roving scarecrow have been captured in a new charity book, raising funds for Rotary's Purple4Polio campaign.
Billy, who first appeared at the club's annual Scarecrows On Holiday event travels around the town to visit all the other scarecrows put together by local schools and businesses, and the book follows these exploits.
Billy Bow's Holiday is a tale of adventure and romance as Billy branches out from his farm through the local village where he does lots of exploring, including bike rides, camping and garden games.
Whilst he is out and about he spots the beautiful Bella Bramhall, and readers will get chance to discover whether love blossoms between the pair.
The book was put together by a team of six, including the daughter of one of the club members, who wrote many of the rhyming verses herself.
This book is aimed at three to eight year olds, although it has proved popular with young and old alike with colourful pictures, interactive poems and a spot the hidden owl challenge on every page.
Priced at just £5, copies have been ordered as far afield as Italy and Malaysia, and you can get your hands on a copy by contacting the club through their Facebook page.
For over 30 years, Rotary and its members have been committed to fighting to eradicate polio across the world. The amount of polio-endemic countries has dropped from 125 to just three, with over 2.5 billion children receiving vaccinations thanks to the help of Rotary.
Published: Thursday 24th November 2016
This week is the second Rotary Good News Week. Over the next five days, we'll be celebrating five special stories from Rotary clubs and members from across Great Britain and Ireland.
To follow Rotary Good News Week, keep your eye on our Facebook and Twitter pages and use the hashtag #RotaryGoodNewsWeek to share your stories.
Read our other Good News Stories from this week below: