Crowds flock to Lord Mayor's Show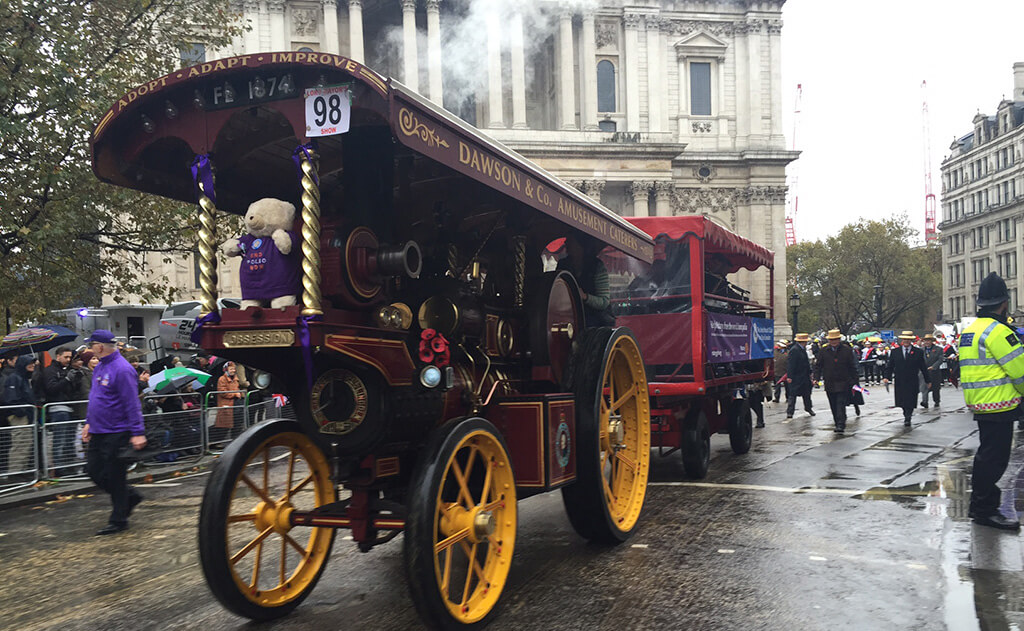 Rotary's Purple4Polio campaign hits London at this year's Lord Mayor's Show.
This week saw the return of the historic Lord Mayor's Show, an annual procession that takes place throughout central London to entertain and inspire a captive audience of thousands.
The Lord Mayor's Show is a celebration of all things British, with many different movements, charities, organisations and clubs taking part in a parade past some of London's most iconic landmarks.
Together with the United Wards' Club, Rotary International in Great Britain and Ireland was out in full force in support of our Purple4Polio campaign. Volunteers rode in the procession from Bank to Aldwych on a lovingly restored 100-year-old steam traction engine, accompanied by none other than the Polio Bear in his purple ensemble.
On board a trailer drawn by the traction engine were the Retro Boys, the UK's youngest retro band, playing their lively blend of boogie woogie, jive and jazz music for the entertainment of the thousands of people who flock to watch the parade each year.
The Purple4Polio campaign is part of the End Polio Now movement, which hopes to eradicate polio from the world once and for all. When a child is immunised from the disease, they receive a purple mark on their fingernail to indicate that they have received the vaccination. Polio is still an endemic disease in three countries around the world; with the efforts of Purple4Polio and End Polio Now, Rotary aims to reduce the number of polio cases to zero.
Find out more about our Purple4Polio campaign.
Published: Tuesday 22nd November 2016