FAQs
Welcome to our Frequently Asked Questions (FAQs).  This page will be regularly updated so check back to see if your question has been answered here. This FAQ section has been split into two halves with the first part covering general DMS questions (non-integration) and the second part covering the main Integration questions.
General FAQs
Don't use the RIBI Template site for your club?
If you don't already use the template site for your club, that's fine. You don't need to use the template to make the DMS work. There are two solutions to gaining access to the DMS. Firstly, the preferred approach would be that if your club isn't set up yet we strongly encourage you to contact your District Secretary as they are able to pull your club data across to the template system in a matter of clicks! Alternatively you will need to set up an account on that site first (matching your log in details with your rotary.org login details) and this will then give you access to the DMS (once your account is approved, which may take up to 24 hours). Importantly please note that in order to synchronise the data for your club to the DMS, you will still need to be either your club secretary or an approved data controller by your club.
Print Settings
For all printouts you need to ensure that your print settings will print the sheets exactly as presented without any re-scaling or other changes. E.g. for Adobe Reader on Windows the settings would be:
'scaling' set to 'None'
'auto center and rotate' turned off.
Business Cards
This prints 10 to a sheet to provide a business card of 85mm x 54 mm. You can either print them onto A4 card or buy ready-made sheets of business cards such as Avery reference C32026-10 which have a 'Quick & clean' card edge that enables you to easily separate the cards, leaving no perforations. It's a good idea to print a test sheet onto ordinary paper to make sure the alignment is correct before printing a complete run onto business card stationery. You can also print 10 per member in the options which is more practical for creating business cards just for individuals.
Compact Club Handbook
This will print onto both sides of an A4 sheet of paper. You will need to set your printer to double sided.
Extra Support
Please email dms@rotarygbi.org if you require any extra support.
Integration FAQs
'My Area' – Data Synchronisation, Why we are doing this?
Data synchronisation in the DMS has been developed to enable Club Secretaries/Club Admins to update Club Member and Club Officer data in a single place rather than needing to maintain two database as has previously been the case.
What is 'My Profile'?
These areas of the system present Personal user information. This page shows you template information alongside RI global information. The RI Global account is found based on membership ID, and once on this page you are given the ability to make changes to template data which can then be pushed to replace current RI data, or if RI data is correct you can pull this information in to overwrite the template information.
Notes:
The fields shown are the only fields which are editable within the RI Global database.
Within the data synchronisation, the e-mail address is not editable as it is used for primary login purposes in both databases; incorrect updates could invalidate a user's login.
The option Push to RIBI Template will download data from RI and overwrite data in the RIBI Template.
The option Save and Push to RI will save information you have changed in the RIBI data fields and then overwrite the data held in the RI record.
What is 'My Clubs'?
The My Clubs page allows for Club Admins to see people within their clubs and District Admins to see clubs within their district and the people attached to these clubs. This page allows for club/district admins to make changes to user data. For example a Club Admin can go within their club and make changes to other users information within that club. District Admins however can do that to any person within a club in their district.
Why do I have a button that says "Sync Members From RI Global Database"?
If there are any discrepancies between the template database and RI, then this button below will appear: "Sync Members From RI Global".
Note: Only if there are discrepancies between the template database and RI will this button will appear.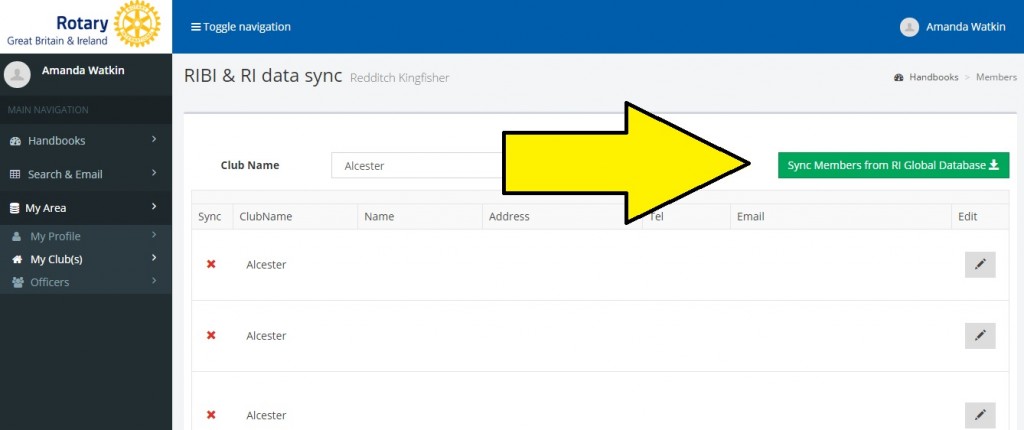 This system is built so that if there are new members, or any members within the RI database, that are not in the template database, they can then be pulled across from RI without starting from scratch.
Why can't I see the integration page?
Only club admins and district admins have access to this page. Club admins can see their club only, district admins are able to see all clubs within their district.
Why can't I see the edit 'pencil' button?
If you do not see the little pencil and X at the right hand side of a persons record (an issue on some Windows 10 machines using Microsoft Edge as the browser), then click on "Toggle Navigation" button at the very top of the page to show the next screen. If you are using Internet Explorer, Google Chrome or Firefox as your browser you should automatically see the pencil and cross without the need to click on Toggle Navigation. If you are using Microsoft Edge, the an alternative is to press the right hand CTRL + O simultaneously which will often also resolve the problem.
How can I tell that a record is synchronised? 
At a glance you will be able to see whether the user has confirmed their data or not by seeing if there is either a tick or a cross next to the left of their name. You can go into individual users, see their data and make amendments.
What is 'Officers' button for, and why are only 6 roles showing?
Automatically draws information from RI and RIBI together for Club Officer records. It shows the data on a single screen and the club administrator can amend current year officers and add/delete officers for the next Rotary year. This is a temporary page set up just to get the 2016/17 key officers listed in the RI Global Database, hence RI only ask for details of 6 club positions. You can add the rest in the same way as normal within the template system.
Why is there a limit of 40 characters within the address field?
Unfortunately like most things, we are working around RI's system. The reason we are limited to 40 characters is because RI has that limit.
Which user can do what within the database:
This will be clearly defined when you log in to the system. It is built around permissions so that whatever you see is what you have access to. An example would be that District Admins have the capability to edit information for any club members within their district. But members would never see the option to do this.
Access Levels:
Club Secretaries will have the same access rights as Club Admins, District Secretaries will have the same access rights as District Admins
Extra support:
Any questions or concerns you may have on the Data Management System should be emailed to dms@rotarygbi.org – this is a specific email account for support purposes to ensure we don't lose questions/queries in the everyday activities of the Rotary Support Centre. Your district secretary or administrator should also be good contacts as they have been helping us test and iron out this system for a number of weeks.