Search & Email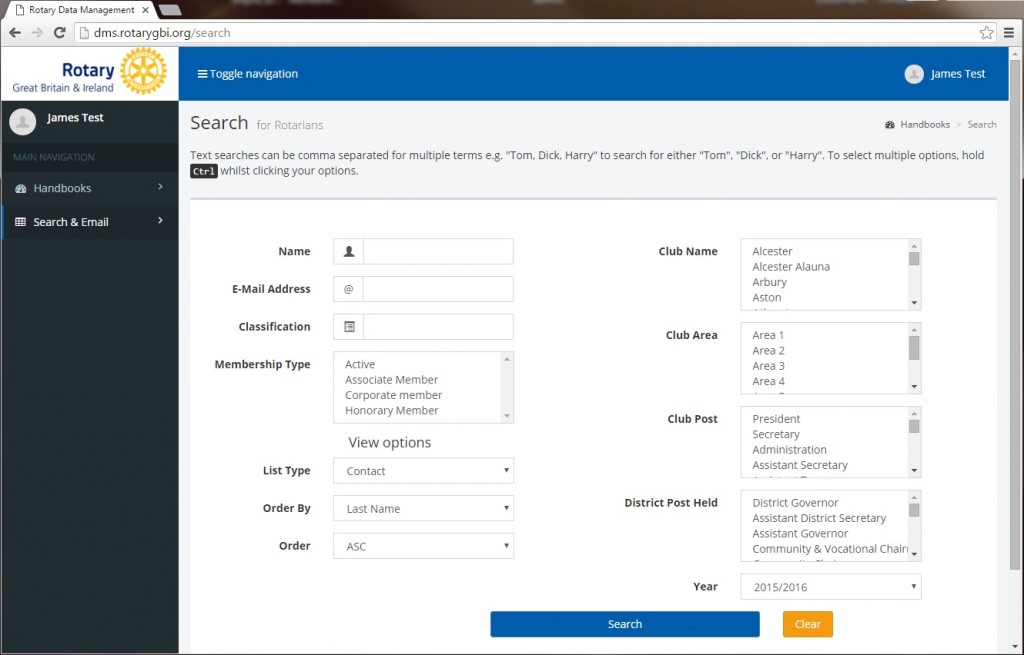 The features to search for all district members through the DMS are accessed through the "Search & Email" tab after you have logged in. Clicking on this option will present a search form which allows you to find members in a number of different ways. Once you have selected a suitable list of members you can then choose to produce the following, or email the selected group:
CSV file (a downloaded excel spreadsheet of the data – available to district secretaries and admins ONLY)
Avery labels (this generates a set of address labels that can be printed for use on envelopes)
Business/Membership cards

The cards have been customised to an 85mm x 54mm size and 10 per page. This matches four different Avery codes: C32026, C32025, C32050, and C32016

Vcard (file format standard for electronic business cards)
Search
Searching for a record is done by filling in as many or as few of the search boxes as required. For example, filling a surname name into the Name box and then selecting a club in the Club Name box will search all the records for any matches of that name within that club (unless you are a district officer, then it searches the district by default). The more boxes you fill in, the more specific the search will be, and you can select multiple options in each category by holding down your "CTRL" button when selecting them. All users will be able to search by the following criteria:
Name
E-Mail Address

Classification

Membership Type
Club Name
Club Area (within that district)
Club Post
District Post Held
You can then choose to show the data in a number of ways including:
List Type

Contact details
Birthdays only
Email address only

Order By Last Name or Club Name
Order ascending (ASC) or descending (DESC)
Current year or next Rotary year (particularly useful for officer post searches)
Please note the search finds members that match all the criteria you enter so when changing searches don't forget to clear any unwanted criteria.
Emailing
After you have made your search you then need to select anyone who you wish to email by clicking on the button by their name. Alternatively, if you want to email everyone on the search you need to select the "select all" button in the top left of the menu shown below to email the first 10 results, or after you've selected this you'll be given an option to select ALL members that the search returned. Please think twice about this before you do this, knowing your email will be going to a large number of people, and make sure it is not a message that could be viewed as spam.
Once you've made your selection, click the "E-mail" button and you will be prompted with a pop up box to type your message. A copy of the email will be sent to yourself too so you know it has sent successfully. Here you also have the option to add a number of attachments (click "add file" for each attachment) or to export the email with the addresses still in it into your default email client on your computer (Outlook, Mac Mail and Thunderbird currently supported).

Email forwarding
Email Forwarding and Web Site Addresses
A system has been provided for standard email addresses for all district and club officers together with associated website addresses for club websites. In this system the district has a special website "domain" and each Club has its own domain within this. These addresses have the advantage of remaining stable and consistent as well as having a more professional appearance. They are easier to write down and remember than the sometimes complicated personal addresses that may otherwise be used.
District 1010 uses the domain rotary1010.org and each club's Internet domain is based on the name of the club combined with this, like [clubname].rotary1010.org so an example might be dundee.rotary1010.org. In most cases it will be the name of the club with spaces removed but there are some exceptions because of the rules that limit what may appear in a domain name, e.g. the "&" symbol is not allowed. If you need your subdomain confirming, please email dms@rotarygbi.org.
Email Forwarding
The special domains are used to form standard email addresses for district and club officers that will remain the same even if the officer or his/her personal email changes.
Email addresses are provided for each officer in the district and in each club. These are formed by adding the name of the office and an "@" symbol to the front of the domain. For a full list of email forwarding addresses, please contact your district website administrator or secretary (to protect members from spam messages, we can't list them here).
Web Site Addresses
The standard web site address (or URL) for a club is formed by simply adding www. to the front of the domain, so in our example it would be www.dundee.rotary1010.org. For brevity it is also possible to use the domain on its own as a web site address, without the www, eg dundee.rotary1010.org. The same rule applies to the web site for the district, so the district web address is www.rotary1010.org or rotary1010.org.
When one of these website addresses is entered into a web browser the system will automatically redirect the viewer to the website created using the RIBI web site system.