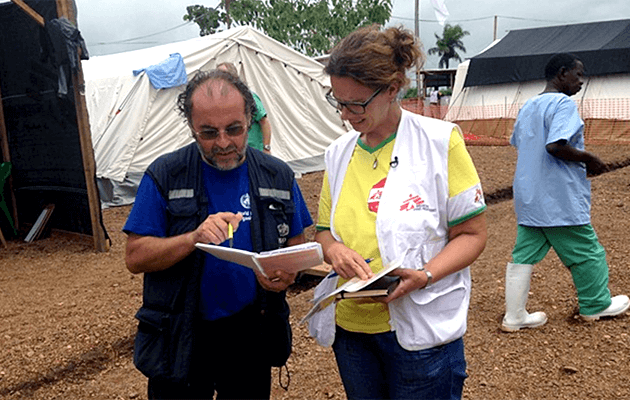 The real story of the Ebola crisis in West Africa will be shared on September 1 when a member of the Rotary Club of Monrovia addresses a public meeting organised by the Rotary Club of Marlow. The Rotary Club of Monrovia is responding to the crisis in Liberia by launching a global campaign to raise US$100,000 to provide basic needs, as Ebola continues to cause fear across West Africa and the world.
Leading the Rotary club project in Monrovia is David Frankfort, whose visit to England to promote the campaign begins on Monday at the United Reformed Church in Marlow. It marks the launch of a campaign by the Rotary Club of Marlow to support the Monrovia Rotarians by raising awareness of the real Ebola crisis and funds for urgently needed supplies. The organisation, Churches Together in Marlow is also supporting the campaign.
Brian Jonson, President of Marlow Rotary Club said: "We hope the people of Marlow will support our campaign for the club and churches in Monrovia where the Ebola crisis is causing so much concern. Ebola is destroying the already scant health care infrastructures and many hospitals in Liberia have closed down temporarily and doctors are dying. The chief administrator of the largest hospital in Monrovia has also died from the virus. They have no facilities such as masks and gloves and in some cases no fresh water."
The Marlow Rotarians plan to work with the Monrovia club to supply items such as face masks, gloves, soap, bed sheets, mattress covers, fresh water, chemicals, protective garments and other essentials to care for the sick, handle the dead and disinfect the infected areas.
Brian adds: "What is even more badly needed is organisation, coordination and focused leadership. Our fellow Rotarians in Monrovia know the situation on the ground, what basics are required and how to address the situation. They have already provided 3,000 surgical gloves, 10,000 examination gloves, 100 buckets with faucets and petrol for rapid response vehicles.
On September 5 the Rotary Club of Marlow, will be holding a collection in the town to raise funds for the cause. Money raised will go directly to the Rotary Club of Monrovia. Cheques and donations should be made to the Rotary Club of Marlow, or via the club MyDonate webpage.
Photo courtesy of the World Health Organisation (WHO)