Extended Distribution for Purple4Polio Ice Cream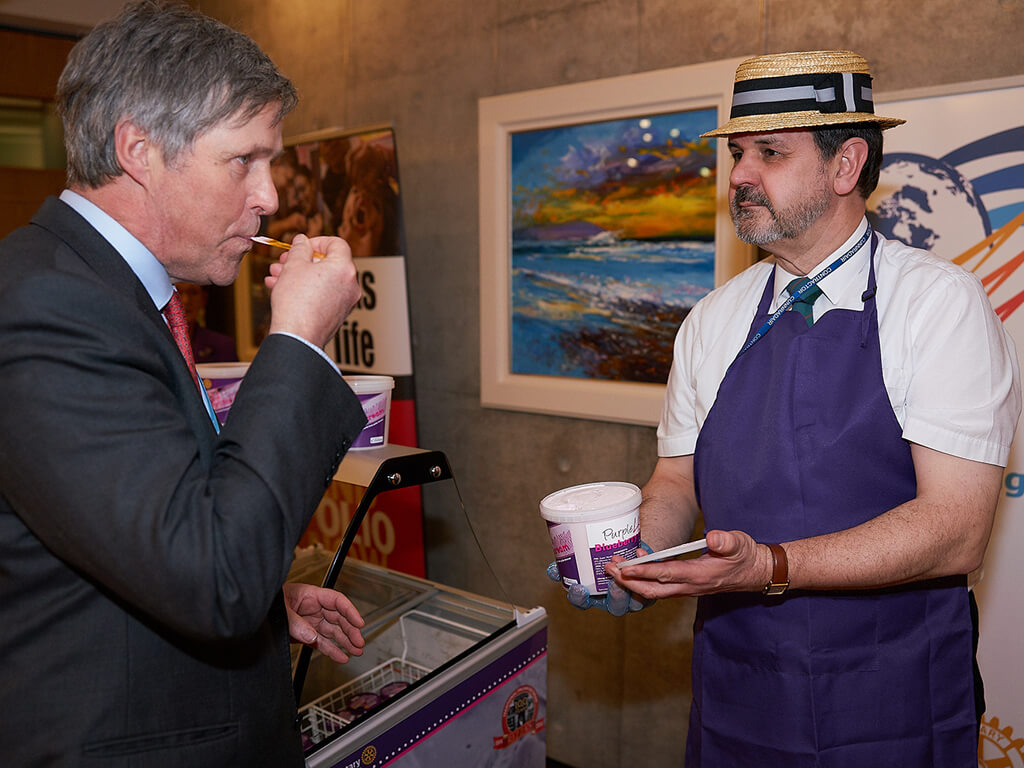 The premier Purple4Polio Ice Cream is now available across Great Britain and Ireland, meaning even more children can be protected from polio.
The idea was the brainchild of the Rotary Club of Huntly member Paul Robinson, and then ably supported by fellow members Stuart Wright and Philip Morrison who saw it as a great way to tie in with Rotary in Great Britain & Ireland's Purple4Polio campaign.
The tasty, blueberry flavoured treat was initially launched in Northern Scotland in October, but new distribution across Great Britain and Ireland was marked with a launch event at Holyrood, home of the Scottish Parliament last month.
The event was sponsored by Alex Burnett MSP, who said it "went down a treat", with a number of other members of the Scottish Parliament on hand to show their support for Rotary's polio eradication campaign and of course, get a spoonful or two of the ice cream.
The ice cream has been produced by James Rizza's & Sons Ltd. where Philip is a Director.
Available in packs of 125ml or 1 litre tubs, each tub contributes 20p and 60p respectively to the End Polio Now campaign. With the cost of a potentially lifesaving oral vaccine being just 20p, buying the ice cream will make a real difference to children across the globe.
As of 17th February 2017, the ice cream has already raised the equivalent value of 3,417 polio vaccinations.
The ice cream is ideal for children's parties, dessert at a dinner party or to sell at a summer fete. To place an order, get in touch with your local distributor.
Published: Monday 20th March 2017
Tweets from the launch