Rotary Flies High at Heathrow for Children In Need – Rotary Good News Week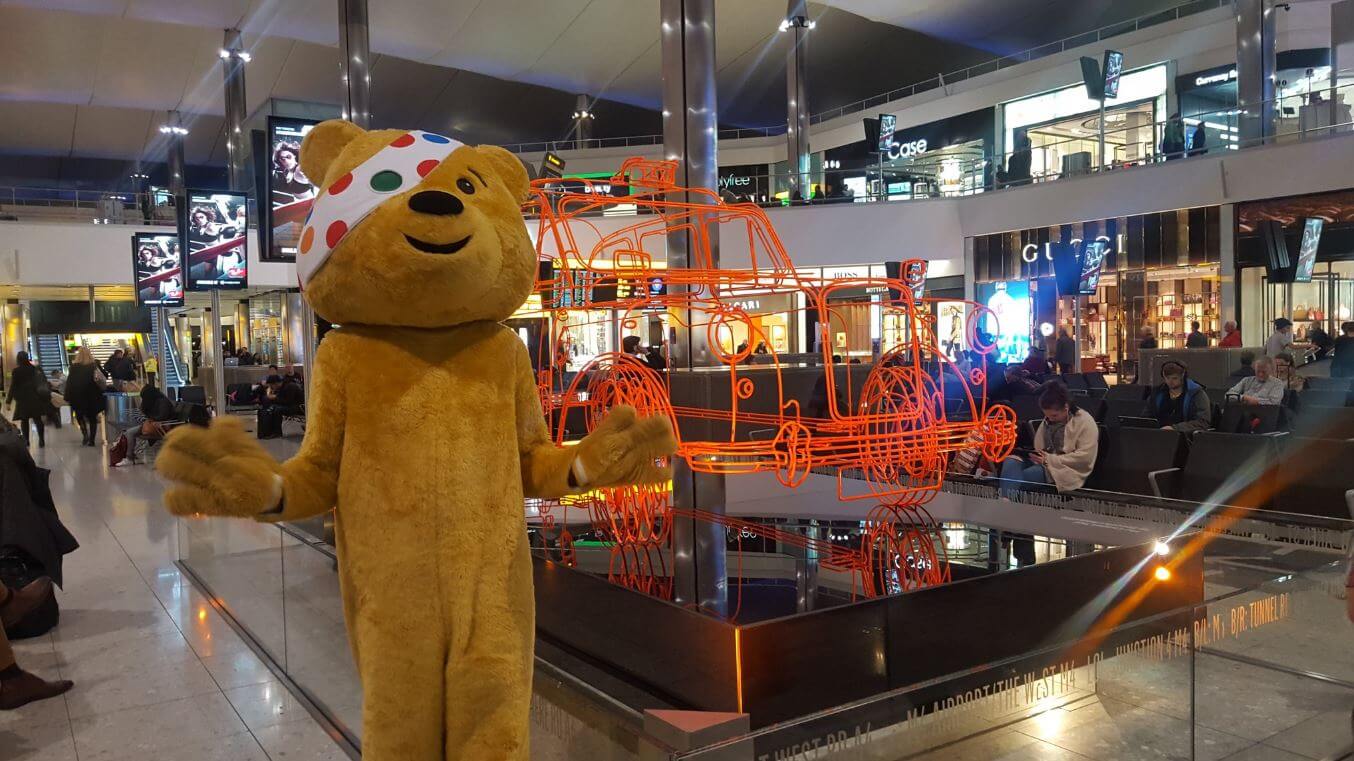 This year's BBC Children in Need challenge was to "do your thing and make a huge difference" and in typical Rotary fashion, clubs across the country were out in force doing what they do best – bringing communities together for a worthy cause.
Over 350 volunteers from 45 different Rotary clubs, along with volunteers from Rotaract and Interact came together on last week's appeal day for a marathon collection at Heathrow Airport. Volunteers collected across all of the airport's terminals, as well as going airside to collect beyond the terminals' security barriers.
Early estimates show that over £40,000 was collected across the day, a significant increase on last year's collection event, much to Pudsey bear's delight!
As well as chatting to happy passengers and holidaymakers at Heathrow, Rotarians also made an appearance at CarFest North and South earlier this year. The events are car and music festivals held by broadcaster Chris Evans in aid of Children in Need.
The Rotary Clubs of Sale and Basingstoke Deane were on hand to keep families, music lovers and petrolheads entertained throughout the day and thousands of pounds across both events.
To top it all off, dozens of clubs ran their own collections and activities in their communities, including the Rotary Club of Horsham, whose annual Halloween street party and fancy dress competition raised almost £2,000 and the Rotary Club of Forres, whose annual quiz night raised almost £7,000 for Children in Need and other local children's charities.
A record £46.6 million was collected on appeal night, which was joint hosted by Purple4Polio Ambassador Ade Adepitan.
To find out more about the wonderful work Rotary clubs have done for Children in Need, visit the Rotary Children in Need website.
Published: Tuesday 22nd November 2016
Picture via Misbourne Matins Rotary Club.
This week is the second Rotary Good News Week. Over the next five days, we'll be celebrating five special stories from Rotary clubs and members from across Great Britain and Ireland.
To follow Rotary Good News Week, keep your eye on our Facebook and Twitter pages and use the hashtag #RotaryGoodNewsWeek to share your stories.
Read our other Good News Stories from this week below: