Further New Year's Honours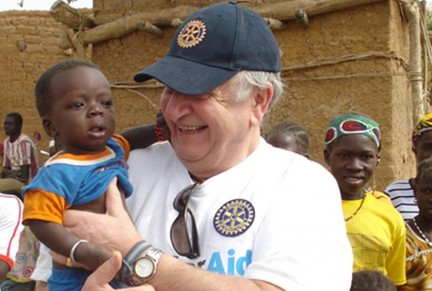 Further to the news of the OBE awarded to Past President Allan O. Jagger, RIBI is delighted to report that a further six Rotarians have also been honoured by the Queen in the New Year's Honours List. They are:
Robert Baxter, Rotary Club of Dingwall, OBE for voluntary service overseas and in the North of Scotland along with his wife Janet Baxter who has also been awarded an OBE.
Hugo Pike, Rotary Club of Chelwood Bridge, OBE for charitable services in the UK and abroad, through Rotary and Worldwaterworks Ltd.
Thomas Drake, Rotary Club of Ewell, MBE for charitable services through the Rotary club and to the community in Epsom and Ewell.
Hugh Kirk, Rotary Club of London, MBE for charitable services in the UK and abroad.
Arthur Littlefair, Rotary Club of Upper Eden, MBE for services to the community and to the Kirkby Stephen Mountain Rescue Team in Cumbria.
Pat McLaughlin, Rotary Club of Shrewsbury, MBE, for services to tourism and the community in Shropshire.
Les Jones, Honorary Member, Rotary Club of Donaghadee OBE for services to the community
Bill Honeywell, Rotary Club of Clitheroe, BEM for services to charity and to the community in Clitheroe, Lancashire.
Bill, who cycled 4,500 miles around the entire coastline of Great Britain raising money for cancer charities said: "It is thrilling to receive this award. I am sure my fellow Rotarians will agree that raising money for good causes is a reward in itself, but to be honoured in this way makes it even more special. Of course a big thank you goes to all those people who helped me along the way, without whom this award would not have been possible."