One Million Shoeboxes of Joy – Rotary Good News Week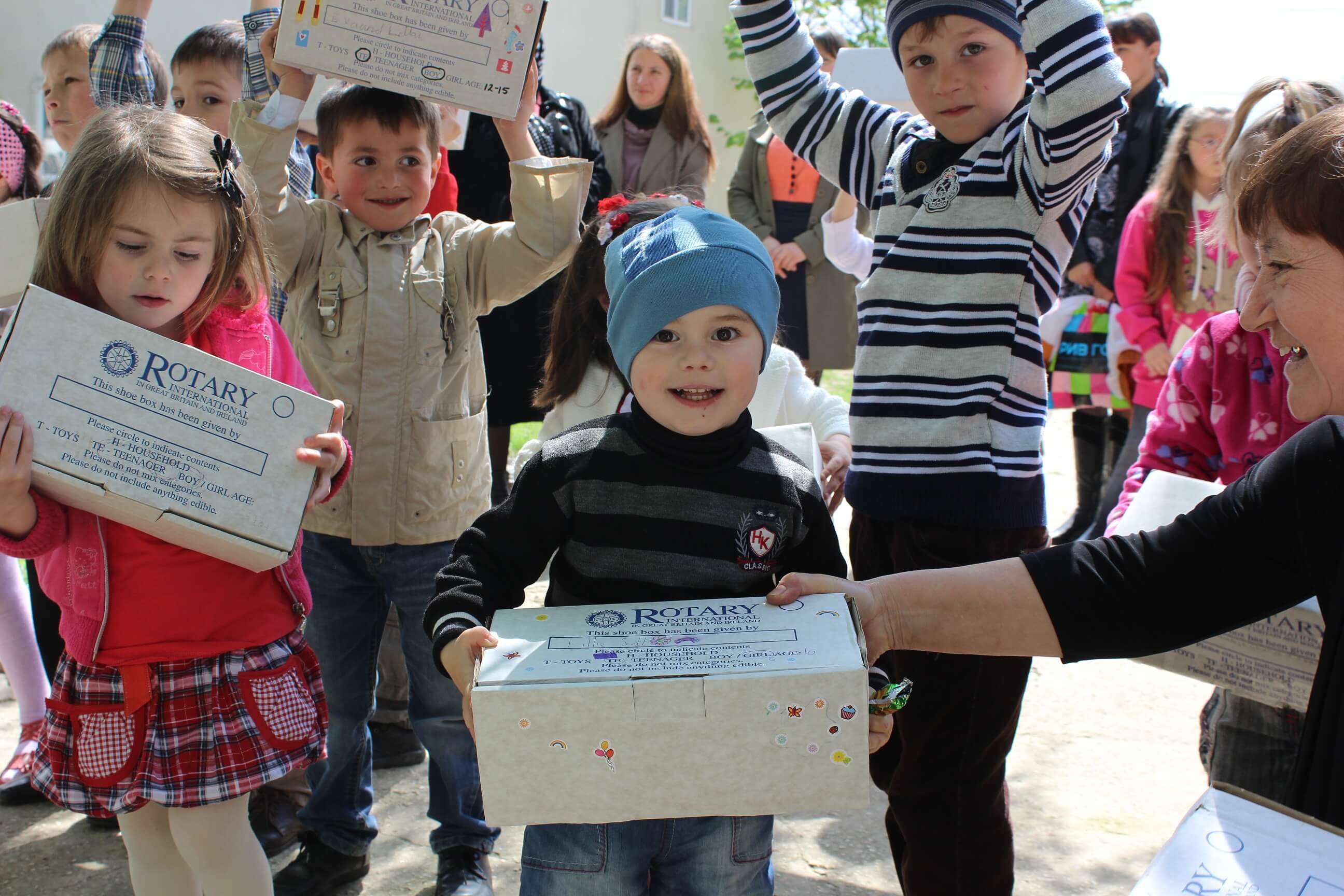 For over 20 years the Rotary Shoebox Scheme has been delivering over a million boxes of joy to underprivileged communities across Eastern Europe, with more on their way just in time for Christmas.
By working with their local Rotary club, schools, businesses and individuals pack the boxes full of toys, clothing, school equipment and toiletries for those who need it most.
The scheme first started back in 1994 when Rotary clubs in the North and West of Manchester and the Isle of Man joined with children's charity Spurgeons, who had children's homes in Romania.
It 1997 it became an official Rotary in Great Britain and Ireland-supported project and since then the scheme has gone from strength to strength, with a small team of Rotary volunteers working hard to process around 60,000 donated boxes per year.
Colin Ince, a member of the St. Helens Rotary Club has been involved with the Shoebox Scheme for a number of years and travelled to Romania and Moldova to distribute boxes: "I came face to face with real poverty with families living in houses with no running water and no heating and often little better than a shack. I will never forget the faces of the children receiving their first ever present or the old lady crying tears of joy as she opened her own box. I was hooked."
"I was asked to join the Rotary Shoebox Team and I did so willingly. Unfortunately the need is growing and we could easily distribute double the number of boxes we do now."
The scheme has 17 Satellite Warehouses across Great Britain and Ireland who help the boxes on their way to the likes of Croatia, Czech Republic, Albania, Ukraine and Belarus.
Since 2010 alone over 275,000 boxes have been distributed for babies, children, teenagers and households. This is all made possible not only by Rotary clubs across Great Britain and Ireland who promote the scheme in their communities, but also Rotary clubs in receiving countries, who work with trusted international aid organisations to ensure shoeboxes are distributed to communities most in need.
Although the programme runs all year round, it is particularly popular at Christmas time and the latest shipment of 26,000 boxes will be heading for Ukraine and Romania in early December, just in time for Christmas.
Many of the items included in the shoeboxes are ones which we take for granted in our daily lives, such as soap, but are precious luxuries for tens of thousands of children and families in these underprivileged communities.
Colin continued: "The number of participating schools is rapidly growing and the children really enjoy helping their new friends in Eastern Europe. It always amazes me that such a small gift can spread so much happiness to so many people who need our help so much; and everyone in schools, businesses, Rotary and Inner Wheel can be part of it.
To find out more or to get involved with the scheme locally, visit the Rotary Shoebox Scheme website.
This week is the second Rotary Good News Week. Over the next five days, we'll be celebrating five special stories from Rotary clubs and members from across Great Britain and Ireland.
To follow Rotary Good News Week, keep your eye on our Facebook and Twitter pages and use the hashtag #RotaryGoodNewsWeek to share your stories.
Read our other Good News Stories from this week below: