Presidential Peacebuilding Conference 2018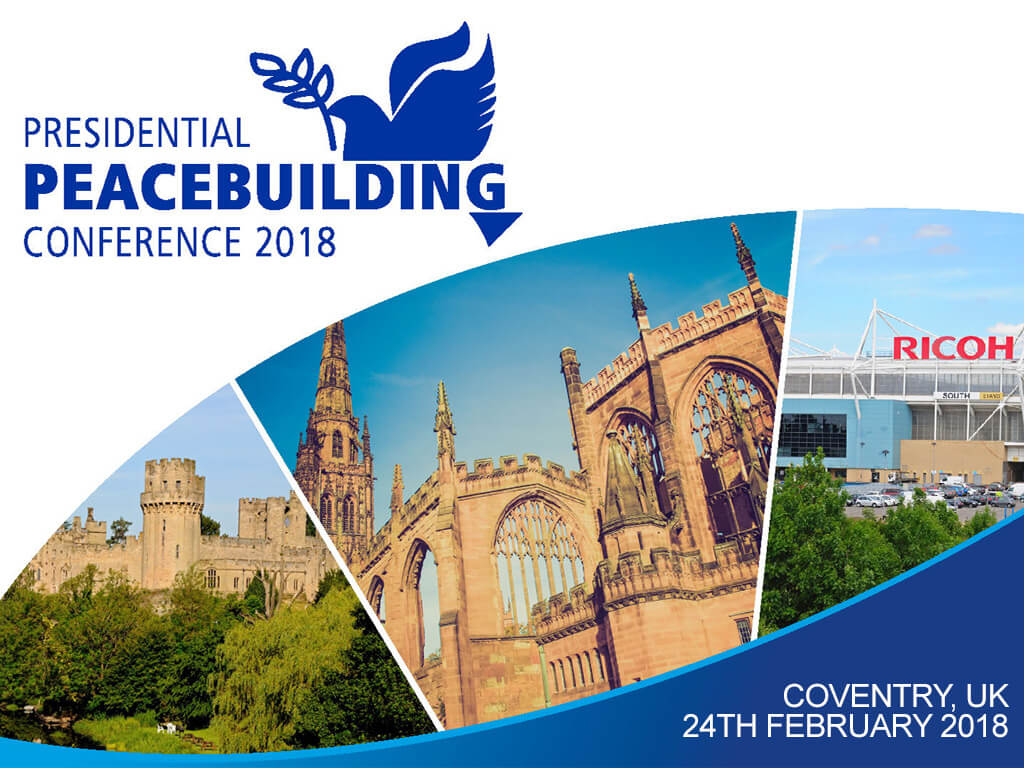 ---
Rotary International President 2017/18 Ian Riseley invites you to join him at the Presidential Peacebuilding Conference 2018.
Date: 
Saturday 24th February 2018
Time:
Disease Prevention & Treatment and Peace Conference – 09.30-17.30
Evening Peacebuilding Dinner – 19.00
Venue:
The Ricoh Arena, Phoenix Way, Foleshill, Coventry, CV6 6GE
---
About the Conference
Since World War II, Coventry has become known as the City of Peace and Reconciliation and has formed many twin cities all over the world.
The programme will include interesting speakers which already include Rotary International President 2017/18 Ian Riseley, The Rotary Foundation Vice Chairman Ken Schuppert, The Lord Mayor of Coventry and Rotary International Director 2017-19 Brian Stoyel (see below for selected speaker bios).
In addition to interesting plenary sessions there will be breakout sessions for all to get involved in.
There will also be visits to Coventry City Cathedral, Warwick Castle and Stratford upon Avon available.
The cost of registration is £49.50, and will cover tea, coffee and pastries on arrival, buffet lunch, hot drinks during the day, car parking and wifi.
The Ricoh Arena is the home of the Wasps Rugby Club and Coventry City Football Club. It is situated just 5 minutes from the M6 Motorway, which gives access to the M1, M5 and M40. It is just 20 minutes away from Birmingham Airport  and has its own rail station.
Accommodation at the onsite Double Tree by Hilton Hotel is available for £90.00 single and £100.00 double occupancy, including full English breakfast/VAT.
Please contact the hotel direct on + 44 (0) 844 873 6563 or email reservations quoting 2302RA to secure your room at this special price. Please note that bookings can only be made through this number between 9am and 5pm, Monday to Friday. Your call may go through to central reservations who will not be able to take the booking and you will need to ask to be put through to the Double Tree at the Ricoh Arena.
If you are a Hilton Honors member, please check available rate/rewards direct with the hotel.
Rooms and rates are subject to availability. Early booking is advised.

---
Sessions for young people
There will be two 75 minute break out sessions for 12 to 18 year olds at 11:25 and 14:25.
Both sessions will start with a short introduction and some activities involving the whole group. The majority of these sessions will then be run in mixed groups of 12 to 15 participants, each facilitated by two or three Peace Advocates/PeaceJam Mentors (older students who are fully trained to run these sessions).
There will be activities that enable those who are sharing their ideas and thoughts to do so in an environment in which they feel safe. The young people will be encouraged and enabled to discuss issues that have been raised in the plenary talks in a controlled and mature manner, with guidance on how to share ideas, debate concepts and achieve consensus.
There will be supporting activities to create an environment of appreciation and collaboration, and It is intended that the outcomes of these sessions will be decisions on future actions, either individually or in a group.
It is expected that the afternoon session will be joined by Nobel Peace Laureate Shirin Ebadi. Our aim is to enable young people to make better informed decisions about their lives, how they affect the lives of others, and what actions they might take in the future to create more peaceful communities.
---
Presidential invitation
---
Meet the speakers
Ian Riseley

Rotary International President 2017/18

Rotary Club of Sandringham, Victoria, Australia
Jean Best

Creator of The Peace Project, which enables young people to develop skills which would help them to conquer conflict in their lives.

Rotary Club of Kirkcudbright and District Peace Officer
Professor Mike Hardy CMG OBE FRSA

Chair of Intercultural Relations and Founding Director of the Centre for Trust, Peace and Social Relations at Coventry University.
Mark Krawczynski

President, Rotary Club of Warszawa City, Warsaw
Caroline Millman

Chairman of PeaceJam UK

Rotary Club of Ringwood
Peter L. Offer

Rotary International Director 2015-17

Rotary Club of Coventry Jubilee
Magnus Riley

Peace Advocate, participant in The Peace Project and former Rotary Youth Speaks contestant.
Ken Schuppert

Vice Chairman, The Rotary Foundation

Rotary Club of Decatur
Brian Stoyel

Rotary International Director 2017-19

Rotary Club of Saltash
Professor Joe Valadez

Chair of International Public Health, Liverpool School of Tropical Medicine
---
For further details contact the Chairman of the Organising Committee, Rotary International Director 2015-17 Peter L. Offer at peterloffer@aol.com
---