Rotary's polio story brought to Bewdley museum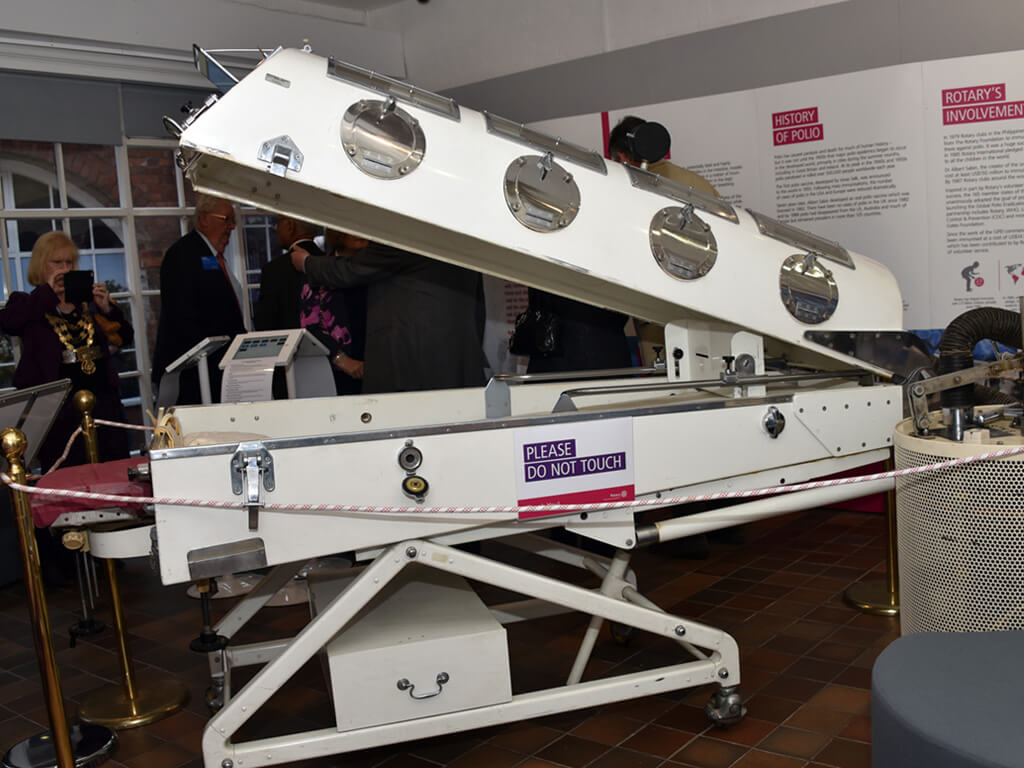 Rotary's fight to end polio has been the focus of a new exhibition at Bewdley museum, organised by the local Rotary club.
At the centre of the exhibition is an 'Alligator' Iron Lung, designed by George T. Smith-Clarke who was born in Bewdley.
Iron Lungs, or more correctly, respirators, saved the lives of many polio sufferers in this country during the 1950s epidemics.
Andrew Page, from the Bewdley Rotary Club who has led the project, stated, "We were looking for a way of raising awareness in the Wyre Forest area of the work of Rotary and upon discovering the link between Bewdley and the Iron Lung and with the knowledge that 2017 was likely to see that last case ever of polio, the idea of the exhibition was born."
The exhibition, which features insightful displays and interactive videos and is free to the public, follows Rotary's polio story, from 1985 when Rotary first pledges to eradicate the disease at a time when there were over 1,000 cases a day in 125 countries, to the present day.
During that time, Rotary has helped to immunise over 2.5 billion children against the disease and the number of cases in 2017 stands at just six.
Although the Iron Lung is a sign of polio from years gone by, it is a potent reminder of the ordeal polio sufferers had to endure.
In the early stage of polio many patients are unable to breathe when the virus's action paralyses muscle groups in the chest. Death was frequent but those who survived usually recovered much or almost all of their former strength.
The sealed air-tight compartment encloses all but the head of a person. Pumps controlling airflow periodically decrease and increase the air pressure within the chamber, and particularly, on the chest.
When the pressure is below that within the lungs, the lungs expand and atmospheric pressure pushes air from outside the chamber in via the person's nose and airways to keep the lungs filled; when the pressure goes above that within the lungs, the reverse occurs, and air is expelled.
In this manner, the iron lung mimics the physiological action of breathing.
The exhibition is open until 15th July 2017.
Published: Thursday 22nd June 2017
Photograph: copyright Colin Hill