Carlisle Health Mela

Want the opportunity to get involved with an event improving the health and wellbeing of local people?
Well now is your chance, as Rotarians in Carlisle host their Community Health Mela in Carlisle city centre on Saturday 13th May 2017 and are looking for volunteers to get involved in delivering the project!
The event was launched last year and was staged in partnership with Sustainable Carlisle, the City Council and the National Forum for Health & Wellbeing, gave residents the opportunity to receive health and wellbeing advice and support in a fun and friendly environment.
The event was one of a series of activities funded through a Rotary Foundation Global Grant Project.  The wider project has involved capital investment in medical equipment for Mountain Rescue Teams and Community Public Access Defibrillators across Cumbria & Lancashire.
The Health Mela includes the opportunity to have a Health MOT and in May 2016, over 100 people took advantage of this facility with 40% of them being referred to their GP's. One of our volunteers commented, "I had an amazing day yesterday! Thank you so much for allowing me to help out. I cannot believe how well organised the whole thing was! It was such great fun, too. I now know (officially) that I'm obese, have high cholesterol and high blood pressure! So I've signed up for two exercise classes next week and will start the diet too!"
Feedback from this first event suggested that it was a real success with over half of those visiting saying they would make some lifestyle changes. The stallholders overwhelmingly felt that the event was a good way of engaging with the community about health issues.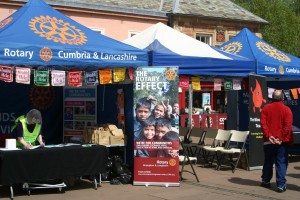 The City Council were so impressed that they have asked Rotary to arrange a second event in 2017.  So, on Saturday 13th May 2017 there will again be a range of stalls in the city centre. Stallholders will be aligned to a "street" including.
Health advice (inc health assessment)
Complementary therapies
Listening therapies
Food  and cooking
Gardening
Exercise
Music and entertainment
Events such as these rely on volunteers to both help with planning and in managing on the day. If you are in the north of England and would like to become involved, contact Kevin Walsh, or visit the Brampton & Longtown Rotary Club website.
To find our more about the Health Mela, visit Rotary Showcase or check out this video playlist.
Interested in other volunteer opportunities in North Cumbria? Contact Wendy Aldred for more information.
Based elsewhere in Great Britain and Ireland? Our network of 1,800 Rotary clubs are doing good in the community – get in touch and we'll help you find the opportunities to suit you.