RIBI Young Citizens winners 2012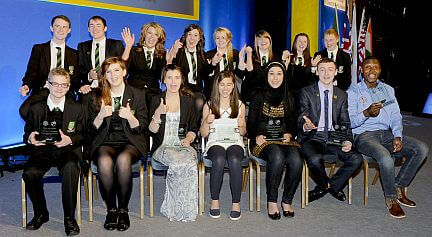 The achievements of young people were celebrated at the RIBI Conference in Bournemouth. Winners of the Rotary International in Great Britain & Ireland (RIBI) Young Citizen Awards received their accolades live on the BBC News channel.
The ceremony was broadcast on Saturday 14th April at 11:30 when the winners received their awards from Ellie Crissell. Special BBC features about the winners are available to watch on the BBC website along with the RIBI Young Citizens Awards programme.
RIBI Young Citizen, in association with the BBC News Channel, celebrates the positive citizenship and vital responsibilities assumed by many young people. These incredible youngsters go above and beyond to help others, often overcoming adversity themselves.
From a marine who lost his limbs in combat, an amazing young girl who is terminally ill but determined to help others, a teenager who has suffered a stroke and has raised over £150,000, a school group promoting the rights of children and a young Asian girl providing opportunities for ethnic minorities in her community to play sport to a young man who is helping disabled youngsters to play sports and a young girl who has captured the heart of the family of Hollywood legend Charlie Chaplin, this year's winners inspire and set outstanding examples to all.
Rotary clubs across Great Britain and Ireland nominated amazing young people and groups, under the age of 25, from their communities. The winners will receive a trophy, a donation of £500 to their project and a visit to the BBC News studios as well as a tour of the BBC TV Centre in London. A series of programmes about the achievements of the RIBI Young Citizens were also broadcast on the BBC News Channel.
President of Rotary International in Great Britain and Ireland, Ray Burman, said: "The achievements of these youngsters are lessons to us all. They have all earned their RIBI Young Citizen awards through hard work, selfless actions and by demonstrating that age and adversity need not be obstacles in the pursuit of helping others.
"Rotary is committed to helping young people develop life skills through our many youth opportunities including Young Chef, Young Photographer, Youth Speaks and other competitions. Interact and Rotaract clubs open the door for our younger members to try new experiences and work together on community projects while having fun in the process.
"I am very proud of each and every one of our winners and look forward to hearing about their successes in future. I also invite everyone to find out about their local Rotary club. You don't have to be a member to enjoy the being part of Rotary and there are so many rewarding and worthwhile activities to be involved with."
This year, there are six awards, including a joint award:
•    Hannah Jones and Alice Pyne
18 year old Hannah Jones and Alice Pyne, 16, have each been nominated by clubs in Torquay and, in an RIBI Young Citizens first, are sharing the award.
Hannah, from Chester, has raised £150,000 for brain tumour research since being diagnosed with a brain tumour at just 15 years old. Originally thought to be non-cancerous, operations revealed it was, sadly, cancerous. Hannah underwent several treatments the tumour returned in 2009. It was removed but Hannah suffered a stroke leaving her unable to walk or feed herself. Many organisations have benefitted from Hannah's fundraising efforts including the Samantha Dickson Brain Tumour Trust, Alder Hey Children's Hospital and her own charity, the Hannah Louise Jones Fund. Hannah was nominated by the Rotary Club of Torquay. You can find out more about Hannah by watching this BBC feature here .
Alice, originally from Cumbria, was nominated by the Rotary Club of Babbacombe and St Marychurch for her tireless efforts to increase the number of people on the bone marrow transplant register. Since being diagnosed with cancer four years ago, she has championed several fundraising ideas through her Facebook blog, which has three million followers, and has even persuaded the Prime Minister David Cameron to pledge his support. The Anthony Nolan Trust has 400,000 people on the register but can only find a match for half the people in need of a life-saving transplant. For Alice, a bone marrow transplant is tragically too late. Doctors say her Hodgkin's lymphoma has become terminal. A special feature, made by the BBC, is available to watch here.
•    Rabiya Ahmed – Preston
19 year old Rabiya kicked off her success story when she volunteered for Fishwick Rangers Youth and Community Development Scheme three years ago, going on to obtain qualifications in sports leadership and football coaching. She has overcome cultural barriers and differences in the Asian community. Her inspiring and motivational outlook has opened up a new world of sport to young Asian women in the Preston area, enabling them to participate in an activity they would previously have felt excluded from. Rabiya managed to secure the support of elders within the Asian community to allow their daughters to take part and also encouraging them to volunteer their time to Fishwick Rangers. Rabiya has been nominated by the Rotary Club of Preston Amounderness. Rabiya is interviewed in this BBC feature.
•    Bethany Hare – Horsforth, West Yorkshire
12 year old Bethany is a little girl with a big heart. Her fundraising began at age 10 when she made a short video in the style of Charlie Chaplin and published it on Just Giving with the aim of helping Martin House Children's Hospice. The Chaplin family was so inspired by her ingenuity they granted permission for the song 'Smile' to be used for a year. Her next project was the Walk of Smiles, a 10K walk which saw hundreds of school children join in the walk with Bethany to help the hospice. Her charity, Bethany's Smile has raised over £18,100 and Bethany hopes it will continue to raise money for children all over the country with life threatening or life-limiting illnesses. Bethany has been nominated by the Rotary Club of Leeds.
•    Cameron Foster – Bolton, Lancashire
Cameron was just 9 years old when he fell 40 feet from a ski lift, breaking both legs, his arm, dislocating his ankles and hitting his head. He was confined to a wheelchair for weeks, unable to join his friends. He fully recovered and decided to help other youngsters who were unable to play sport through disability. Fundraising and a tremendous amount of volunteering followed, including coaching disabled youngsters and overseas work with the charity Cricket Without Boundaries. He has been awarded the Blue Peter Gold badge, the Diana Award and the British Red Cross Humanitarian Fundraiser of the year awards amongst many other worthy accolades. He is also an Olympic Torchbearer. Cameron, aged 16, is sponsored by the Rotary Club of Astley.
•    Ben McBean – Plymouth
24 year old Ben was a Marine. Five months into his tour of duty in Southern Afghanistan when he stepped on an explosive. Ben lost the lower part of his right leg and much of his left arm. Four years on and his body is still riddled with shrapnel which has to be removed. Despite horrific injuries, Ben has refused to allow his life to be limited and has taken on many fundraising challenges including climbing to Everest Base Camp and running the London Marathon twice. It is this determination and resilience which inspires those who come into contact with him, including Prince Harry who has frequently met him. Ben is grateful to be alive and spends his time motivating others to raise awareness that there is life after disaster. Ben has been nominated by the Rotary Club of Plymouth Mayflower. See him in action in this special BBC feature .
•    Seen and Heard Group – Blackburn, West Lothian.
The Seen and Heard Group, based at St Kentigern's Academy in West Lothian, was launched in 2011 with the aim of making the academy a Rights Respecting School as defined by the United Nations Convention on the Rights of the Child. 10 pupils, ranging in age from 13 to 18 years of age, from across different classes came together and created a moving film about the rights of children as outlined in the United Nations Convention. They continually promote the rights of children within the school and the wider community. Hear from the group by watching this BBC feature .
Visit RIBI Young Citizens Awards to find out how you can be involved in the awards next year or contact your local Rotary club.