Rotarian recognised at Life After Stroke Awards – Rotary Good News Week
After years of volunteering to raise awareness for high blood pressure on behalf of the Stroke Association, one Rotarian was recently nominated at the Life After Stroke Awards.
Mukesh Malhotra, a member of the Rotary Club of Hounslow, was nominated for the Adult Courage Award, which recognises stroke sufferers who have demonstrated immense determination in overcoming personal, physical, emotional or communication problems as a result of their stroke.
After getting involved in Rotary's partnership with the Stroke Association, Mukesh admits that he never envisaged that he would need their support himself.
"I never had high blood pressure, I didn't smoke, I didn't drink; however reflecting back, I wasn't the best person in terms of looking after myself and my health.
"I travelled the world as part of my job, but although it meant staying in some of the best hotels, eating in some of the finest restaurants and flying Business Class, it also meant travelling at odd times of the day and night, eating meals at odd hours and not getting enough rest. Looking back, these may have been contributing factors."
High blood pressure remains the single biggest risk factor for a stroke, contributing to 54% of strokes in the United Kingdom.
This is why Rotary clubs across the country organise events where thousands of blood pressure readings are taken every year by getting involved in Know Your Blood Pressure days, to raise awareness of the impact high blood pressure can have on your health.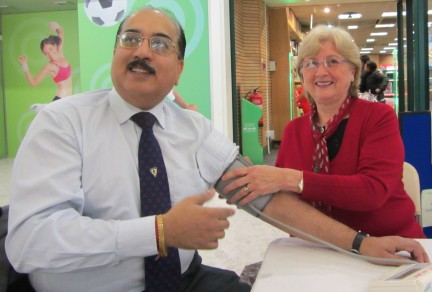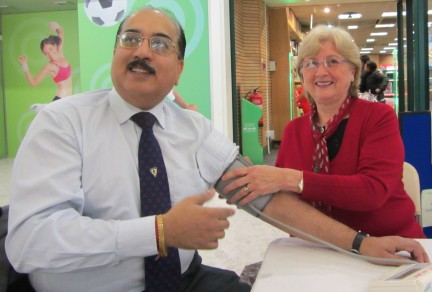 Mukesh explains that the right care is essential, "The first time I had a stroke, I was lucky in that my son, who is a doctor, was at home as he had finished his night shift. He spotted what was happening and after confirming it was a stroke, he took me to the hospital and called ahead to say we were coming."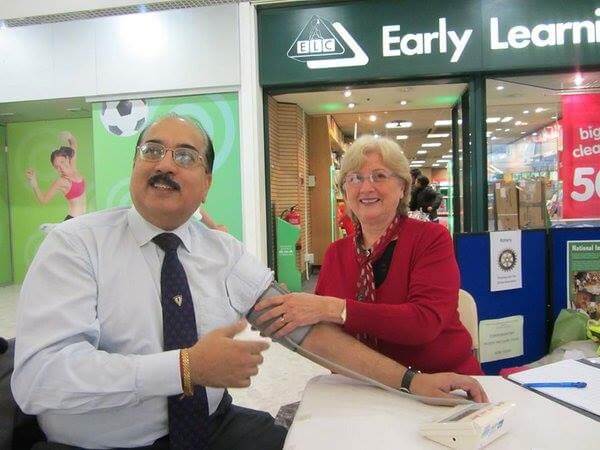 "At the hospital, the clock was ticking and I needed to have the right diagnosis and treatment within four hours, which meant everything was done extremely quickly to ascertain whether I had a bleed or a possible clot. It was a clot, and I was offered a new experimental drug, although there was no guarantee it would work."
"I was fortunate in that I took the drug and within a few days many of my faculties returned. Eventually, after nearly six months, I tried to return to work in a phased manner, which I did. Then another stroke hit me!"
"The second time around, my wife recognised the signs. The hospital was advised and they were ready to receive me and I was fast-tracked and received the same drug as before."
"This stroke had a big impact, leaving him with aphasia – a communication disability which can make it difficult to speak and understand during the first week. I received help from Integrated Neurological Services (INS) in Twickenham and the Stroke Association communication support programmes which helped me regain most of my speech."
Despite the challenges he has faced, Mukesh has remained an active Rotarian and has engaged in lots of service and fundraising projects, including multiple climbs of the O2 Arena in London and says he still has a long Bucket List to work his way through!
"I will keep volunteering because I know how much INS and the Stroke Association helps people affected by stroke. Life After Stroke has opened a number of doors for me and has enabled me to work with INS and The Stroke Association with a different perspective. I would help fundraise for INS in the past; these days, I share my story to inspire others, and I continue to organise Stroke Awareness Days and Know Your Blood Pressure Days.
Published: Thursday 26th January 2017
This week is the third Rotary Good News Week. Over the next five days, we'll be celebrating five special stories from Rotary clubs and members from across Great Britain and Ireland.
To follow Rotary Good News Week, keep your eye on our Facebook and Twitter pages and use the hashtag #RotaryGoodNewsWeek to share your stories.
Read our other Good News Stories from the week below: