Rotary Foundation Trustee Chair makes visit to thank Irish Rotarians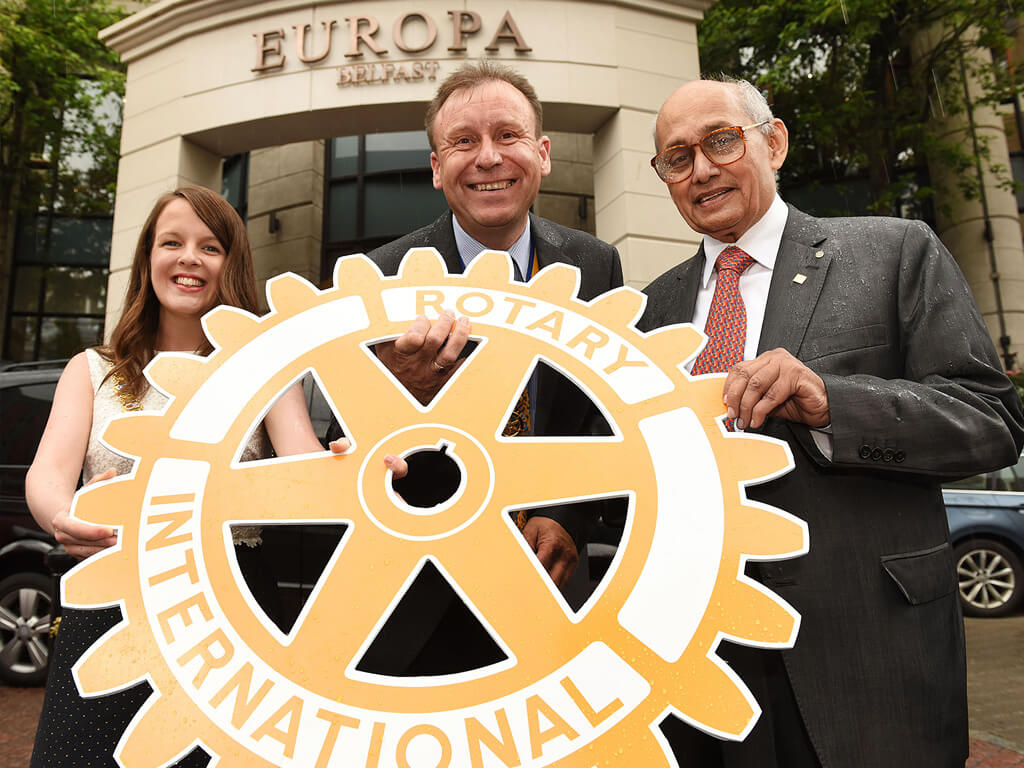 Rotary's biggest ever celebration is underway – a year-long, global celebration of The Rotary Foundation's 100 years of Doing Good in the World.
And this week that celebration came to Belfast, with the arrival of Kalyan Banerjee – The Rotary Foundation Trustee Chair and 101st Rotary President – who has made the visit from the Rotary Club of Vapi, Gujarat, India.
Making an address at the Europa Hotel, as part of a three-leg trip which saw him visit Cork and Dublin, Banerjee thanked Northern Irish Rotarians for their help in eradicating polio worldwide and made a call for one final push to help end the disease.
He urged every Rotarian to pledge a minimum of $30 a year for the next 3 years, the funds will be matched by the Bill & Melinda Gates Foundation and Polio will be eradicated once and for all.
The first recorded case of polio in Ireland was in 1941 and by 1956 an epidemic had broken out across the country, including County Cork which had 90 notified city cases. By 1985, there were more than 350,000 cases of polio globally.
Today, to date in 2017, there have been just six reported cases of wild poliovirus worldwide. Primarily thanks to the work of Rotary, we are on the cusp of ending this paralysing, life-altering scourge which will be the second human disease, after smallpox ever to be eliminated.
---
"Banerjee reflected on Rotary's commitment to raise
$50 million per year over the next three years."
---
In 1985 The Rotary Foundation launched its PolioPlus programme – the first initiative to tackle global polio eradication through the mass vaccination of children.
Since then, Rotary has contributed more than £1.25billion (€1.46billion) and millions of volunteer hours to immunise more than 2.5 billion children in 122 countries.
In addition, Rotary's advocacy efforts have played a role in decisions by donor governments to contribute more than £5.6billion (€6.4 billion) to the effort which has led to a 99.9% decrease in cases since PolioPlus launched.
Addressing Rotarians at a lunch event in the city, Banerjee went on to congratulate Irish Rotarians for the fundamental humanitarian work they had been doing since 1911 when Rotary first came to Belfast.
He encouraged as many people as possible to get involved in the century-old organisation to enjoy fellowship, meeting new people to interact and gain from these interactions.
During his speech, Banerjee reflected on Rotary's commitment to raise $50 million per year over the next three years, with every dollar to be matched with two additional dollars from the Bill & Melinda Gates Foundation.
This expanded agreement will translate into $450 million for polio eradication activities, including immunisation and surveillance over the next three years.
This critical funding helps ensure countries around the world remain polio-free.
Banerjee concluded his address by making a call for Irish Rotarians to help with the final push in efforts to help the eradication of polio.
Published: Wednesday 28th June 2017