Rotary Goes Purple For The Parade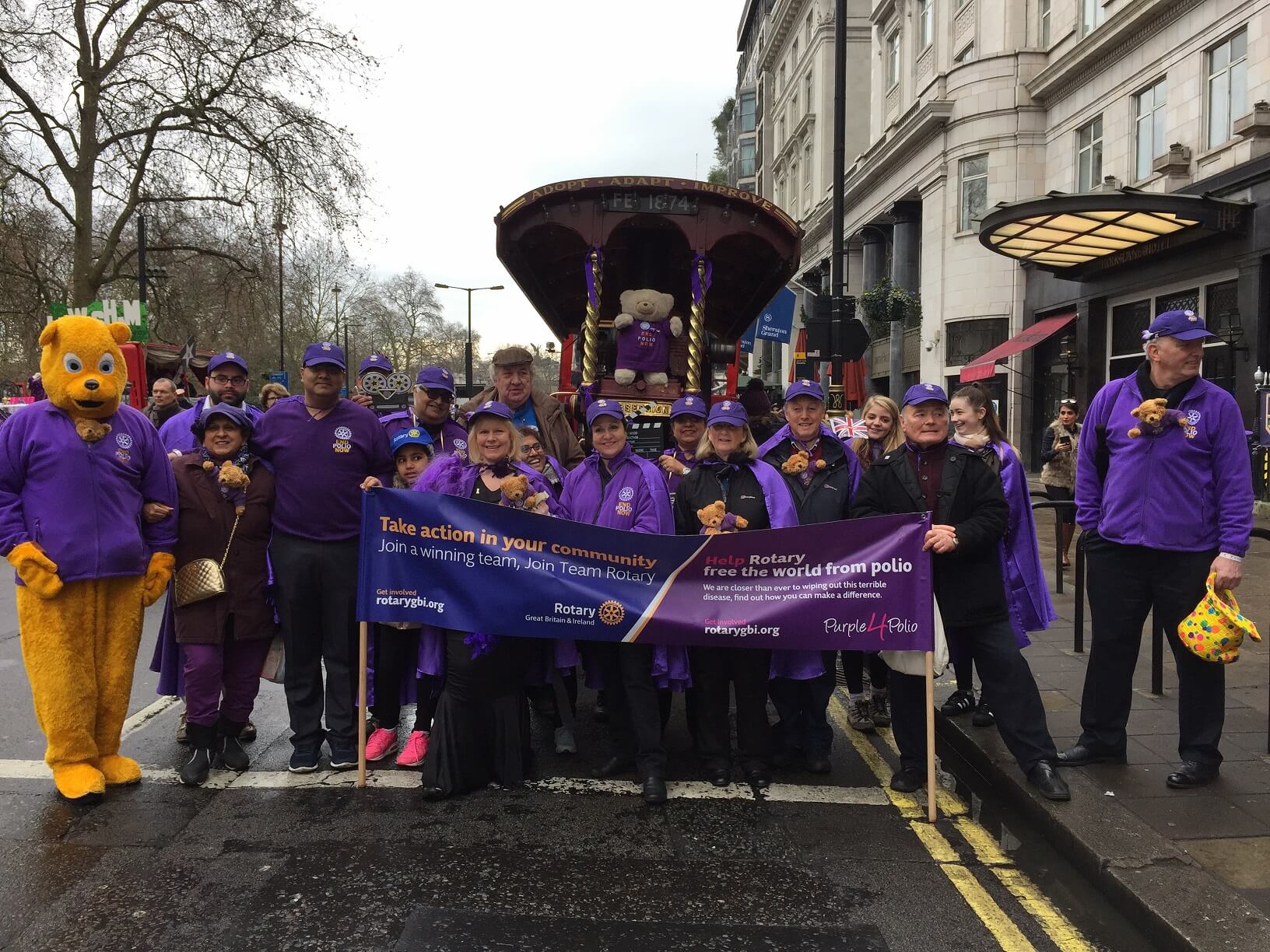 Rotarians went Purple for the Parade as they braved the rain to take part in the London New Year's Day Parade 2017 to highlight Rotary in Britain and Ireland's Purple4Polio campaign.
President of Rotary International in Great Britain and Ireland Eve Conway, said: "The theme of the LNYDP 2017 was 'Lights, Camera, Action' and Rotary's entry included film characters who wore purple, including Batman's The Joker, as our Purple4Polio campaign highlights how Rotary is so close to achieving our number one goal of eradicating polio worldwide."
"The blockbuster fact is that we are on the brink of a historic milestone: a polio-free world, thanks to Rotary starting and spearheading the campaign to end polio now and forever, cases have been reduced by 99.9%.
We chose purple for the campaign as purple is the colour of the dye put on a child's finger to show they have been immunised against polio." she continued.
Rotary started and has led the campaign for a polio-free world since 1985 when there were about a thousand new cases of polio a day in 125 countries.
This led to the setting up in 1988 of the Global Polio Eradication Initiative with Rotary International, the World Health Organisation, UNICEF and the US Centers for Disease Control and Prevention and more recently joined by the Bill and Melinda Gates Foundation.
In 2016, there were just 35 cases of polio in three countries, Pakistan, Afghanistan and Nigeria and the Global Polio Eradication Initiative hopes that we could see the last case of polio in 2017. It takes three years of no new cases of polio to declare the world polio-free.
Rotary also runs youth projects and fosters young musical talent like Cody Lee (from Buckhurst Hill, Essex) who joined Rotary's entry in the LNYDP with the UK's youngest Retro Band, The Retro Boys, who played on a trailer being drawn along by a one hundred year old steam traction engine lovingly restored by its owners.
Published: Monday 9th January 2017