Rotary's Battle Against Polio Given Final Push On International Women's Day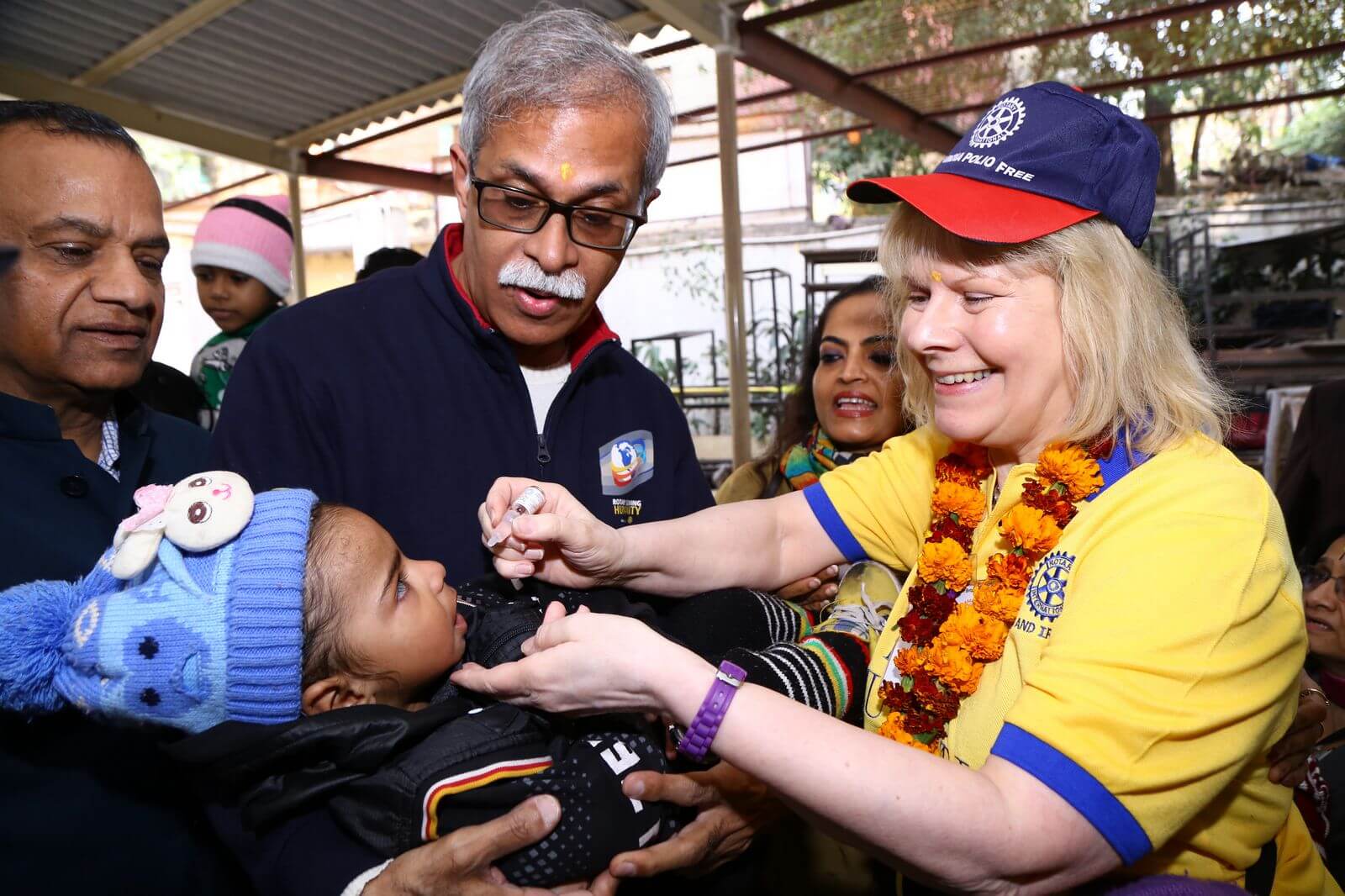 On March 8th, International Women's Day, Rotarians across Britain and Ireland will break for tea and jam to celebrate an historic milestone, the dramatic success to date in the ongoing campaign to rid the world of polio.
Rotary clubs across Britain and Ireland plan to host simultaneous Purple4Polio Tea Parties beginning at the quintessentially British tea-time of 4pm.
The Purple4Polio campaign resonates with the International Women's Day 2017 campaign theme of Be Bold For Change and Rotary fully supports gender equality.
The Rotary polio campaign is particularly relevant to women as it dates back to 1985 and the ambitious promise Rotarians made to the mothers of the world that polio would be eradicated and their children would no longer suffer from the life threatening and crippling disease.
That promise is on the brink of being fulfilled, with just 37 polio cases in three countries in 2016. There are real hopes that 2017 will see the last case of polio worldwide.
A Purple4Polio Tea Party will be taking place at Rotary London headquarters in Regent's Park with a host of celebrity guest speakers including TV Presenter Konnie Huq, who will open the event, as well as Jane Garvey of BBC Radio 4's 'Woman's Hour', Purple4Polio Ambassador and broadcaster, Julia Roberts and former BBC World Affairs Correspondent Emily Buchanan.
To support the tea parties and Rotary's campaign to end polio forever, Typhoo Tea, the second largest tea manufacturer in the UK, is organising a tea-tasting at the launch, and donating tea and branded disposable mugs.
Somnath Saha, CEO, of Typhoo Tea, says: "Uniting communities to help eradicate polio is essential and we're proud to be a part of helping achieve this. Working closely with Purple4Polio nationwide, we're hoping our charitable tea parties will bring people together to cross the finishing line and end polio now."
Wilkin & Sons Ltd. (Tiptree Jam) has given 52,000 specially branded jars of plum and greengage Purple4Polio jam to Rotary members across Britain and Ireland who will use the jam to raise awareness of the Purple4Polio campaign and to raise money by filling the empty jars with coins.
The aim is to raise up to £1 million, and with matching funding through the Bill & Melinda Gates Foundation, this £1 million will become £3 million.
Polio eradication has become a personal mission for Eve Conway, the President of Rotary International in Great Britain and Ireland. Eve recently returned from India where she joined British Rotarians on the frontline in the fight against the disease (pictured above).
India was declared polio free in 2014 but there are still vital ongoing national immunisation campaigns giving polio drops to every single child under five years old in order to keep the country free of the disease.
Eve Conway says: "We want to celebrate our immense achievement so far and remind everyone we are so close now to Rotary's goal of a polio free world. With just 37 cases worldwide last year, it's absolutely vital we push this last step. We truly are on the brink of an historic milestone and this year we could see the last case of polio worldwide."
In addition to the informative and inspiring speakers, the mesmerising young singer, Bethany Hare, will provide a musical interlude. Bethany won a Rotary Young Citizen Award when she was 12 for her inspirational fundraising. Her charity, Bethany's Smile, has raised tens of thousands of pounds for children with life-threatening illnesses.
Outside of the London event, clubs across Great Britain and Ireland will be hosting their own Purple4Polio tea parties throughout the coming weeks.
For more information, reserve a seat at the Tea Party, and to arrange interviews with the speakers please contact:
Lalita Taylor
Email – lalita@taylorkerek.co.uk
Mobile – 07968 827016
Sophie Taylor
Email – sophie@taylorkerek.co.uk
Mobile –  07905 177345
Event address – Rotary London Headquarters, 6 York Gate, Regent's Park, London, NW1 4QG
Published: Thursday 16th February 2017