Rotary says #iwill for young people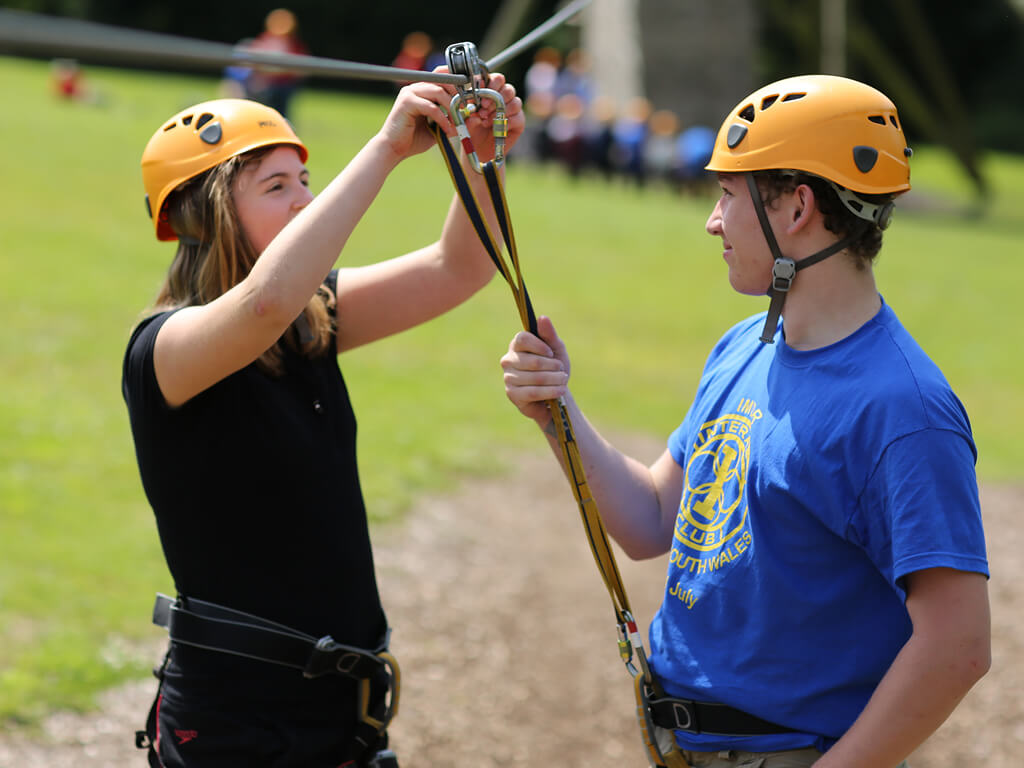 Young people across the UK as young as 10 are doing inspirational things in their communities every day to help others through social action activities such as campaigning, fundraising, or volunteering their time.
This National Volunteer's Week, we want to celebrate the role that young people can play and the difference that taking part in social action makes to themselves and others.
However, not every young person gets the opportunity to be involved and feel the benefits of taking part.
That's why Rotary in Great Britain and Ireland, along with over 700 organisations, have pledged #iwill, to show what they will do to encourage and enable more young people across the UK to take part in social action.
As part of National Volunteer's Week, today Rotary is celebrating its #iwillpledge to increase opportunities for young people to make a difference.
Youth social action is defined as 'young people taking practical action in the service of others to create positive change' and Rotary's youth programmes give the platform to do exactly that.
Rotary's #iwill pledge is to open the door for young people to revive and rejuvenate communities, at home and overseas, with the formation of 125 new Interact clubs and 300 new RotaKids clubs by 2020.
Since pledging to the #iwill campaign in 2014, Rotary has chartered 112 Interact and 190 RotaKids clubs across Great Britain and Ireland, including 28 Interact and 46 RotaKids during the last 12 months.
Anne Forster, a member of Oldmeldrum Rotary Club, has been involved with RotaKids, for ages seven to 11, since 2008 when she founded the Tarves group and is frequently called on to help set up other RotaKids clubs.
---
"Since pledging the #iwill campaign, Rotary has chartered
112 Interact and 190 RotaKids clubs."
---
The activities include shoebox gifts where members collect goodies and send them overseas to children in need.
Anne explained how this, and other projects, are having a positive and humbling impact on the RotaKids. She said: "By doing these activities they have realised how well-off they are compared to people in other countries."
"It's a learning experience for the kids. Some are not seriously well-off but they suddenly realise that they are."
"There are opportunities to make an impact on people. We invited residents from sheltered housing to the school and, believe it or not, they played board games. We even served tea and coffee."
"The children were nervous but could not believe how much they had in common and had great fun."
Interact, for children aged 12-18, carries out two service projects each year: one international project; the other based in the local community.
Clubs are usually found in colleges and schools but, like RotaKids, they can be set up anywhere with support from a sponsoring Rotary club.
Community-based Coed Cae Interact, Wales, is bringing young people together from an area often associated with economic challenges.
Not only are litter picking projects and quirky fundraisers alleviating problems, such as a pyjama party which raised money for LifeStraw, but members are motivational role models for others in the area.
---
"Be ready to be inspired and work your boots off.
These young people will get you feeling that
you can do anything if you are with them."
---
Coed Cae is linked to Brynmawr Rotary Club where Donna Wallbank is the liaison officer. She explained: "The future of our communities is in our communities."
"Whether you are 25 or 85, you have something to inspire a younger person with, but be ready to be inspired and work your boots off as these young people will get you feeling that you can do anything if you are with them."
Interact is also linked with The Duke of Edinburgh's Awards where an Interact volunteering activity can also count towards the bronze, silver and gold badges.
RotaKids conveniently meet the citizenship element of the curriculum which relieves pressure on teachers. In some schools, it is commented upon positively by Ofsted.
Interact is a great way to enhance a CV as well as enable members to increase their understanding of the world and the contributions they can make.
The advice for anyone thinking of setting up either club? Donna's recommendation is to go for it.
She added: "Interact is an inspirational part of the family of Rotary, so it's obvious if we are looking for enthusiastic youngsters to carry on from us that we need to get them inspired by Rotary in the first place."
"We are about to charter a Coed Cae RotaKids as well as we have so many younger children coming along."
Charlotte Hill, CEO of Step Up To Serve, the charity which coordinates the #iwill campaign says: "We are delighted that Rotary has pledged to support our work, and today is sharing their progress to inspire others to take part also."
"If we are to make involvement in social action the norm for 10-20 year-olds we need partners to commit to tangible actions just as they are doing. The involvement of Rotary will undoubtedly help us progress towards our challenging goal."
Want to find out more about Rotary youth programmes? Find your local club, or get in touch.
Published: Wednesday 7th June 2017