Rotary turns Purple4Polio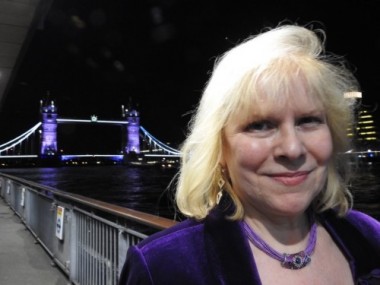 Rotary International in Great Britain and Ireland has launched the
Purple4Polio
campaign, which encourages everyone to join together in the final push to eradicate polio worldwide.
Backed by legendary singer-songwriter, Donovan, and former Blue Peter presenter, Konnie Huq, the campaign was launched at a prestigious event on the River Thames during the presidential handover from Peter Davey to Eve Conway.
Tower Bridge was raised and glowed purple on the backdrop of the river as the campaign was launched aboard the Dixie Queen. The colour purple was chosen for the initiative to represent the children whose little fingers are coloured purple to signify their immunisation against polio.
This campaign will see Rotary clubs across Britain and Ireland taking part in wide, varied and fun activities highlighting the Purple4Polio campaign to help Rotary End Polio Now. One exciting part of the campaign will be a collaboration, which will see Rotary team up with the Royal Horticultural Society's Bloom Groups to transform public spaces and brighten up local communities by planting five million purple crocus corms across Britain and Ireland.
Rotary has a long and successful history in its fight against polio, which it started in 1985, and Rotary continues to play a key role including raising funds and through its advocacy. When it started this challenge over 30 years ago there were 125 endemic countries and now there are just 2.
In 2015 there were 74 cases of polio recorded, and to date this year there have been 18. Through the Purple4Polio campaign, Rotary aims to reduce this number to zero.
Rotary Purple4Polio Ambassador, Donovan, explained at the launch event why it was a cause so close to his heart: "I'm proud of this polio campaign because I had polio myself when I was a wee child in Glasgow."
Konnie Huq is supporting the campaign after seeing first hand how devastating the effect of polio can be.
Watch what she has to say about her experiences.


Speaking on the significance of the Purple4Polio campaign, Rotary International in Great Britain and Ireland president, Eve Conway said: "Purple4Polio really is important as we are on the edge of this historic milestone, because we may see the end of polio in 2019 as that is what the global polio initiative is saying. This is thanks to the dedication and determination of Rotarians across the world who have led this campaign to have a polio free world, what we now need to do is keep raising awareness and also continue fundraising."
Published: Tuesday 5th July 2016