Beating Retreat kicks of Wales Rotary Centenary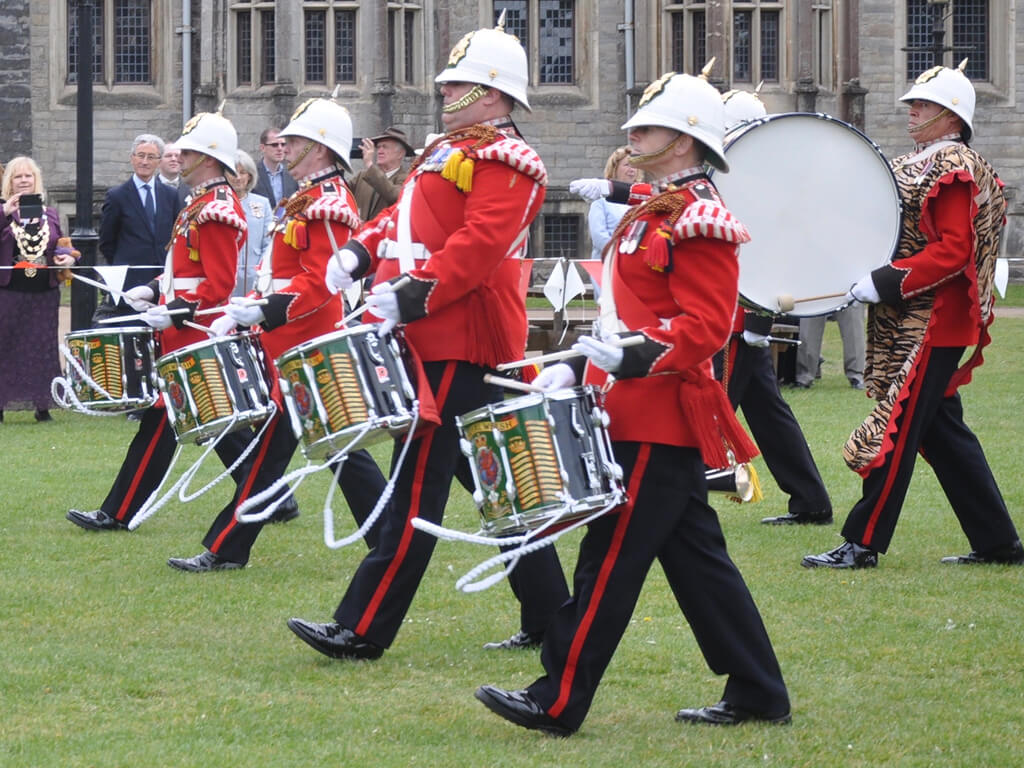 In November 1917, a year before the end of World War I, Cardiff Rotary Club was chartered. It was the first Rotary Club in Wales.
The formation of a Rotary Club for Cardiff had first been mooted in May of that year.
To commemorate this anniversary and kick off Rotary centenary celebrations in Wales, a "Beating Retreat" ceremony and reception was held in the historic surroundings of Cardiff Castle.
The band of the Royal Welsh Guards performed the Beating Retreat – entertaining the guests with a varied programme of contemporary and traditional music.
Eve Conway, President of Rotary in Great Britain and Ireland, and Mrs Morfudd Ann Meredith, Lord-Lieutenant of South Glamorgan attended the event as well as Southern Wales District Governor Steve Jenkins and District Governor Elect Maggie Hughes.
Afterwards there was a tour of the Castle, which is in the heart of the city. Built by the Normans on the site of an old Roman Fort, the castle was extensively remodelled by the Marquis of Bute in the mid-18th Century.
Rotary in Wales has a proud history with many international projects started by welsh clubs including Lifestraw and Doctor Bank.
Cardiff Rotary Club was also instrumental in the development of satellite clubs and Cardiff Centenary President George Mercer was awarded a Rotary Champion of Change award for his pioneering work in this area.
Satellite Clubs are attached to a sponsoring Rotary Club and give people the chance to get involved in their community, but with added flexibility, allowing them to become members whilst balancing their work or family commitments.
A number of events and initiatives are planned across the Southern Wales District in the upcoming year to commemorate this important milestone in the history of Rotary in Wales.
One of the key legacy initiatives is to work  to make Wales a dementia-friendly country.
There are also plans for a Centenary Mile, Party in the Park and a gala dinner.
Llanelli Rotary Club will be the next to celebrate its centenary having been formed in 1918.  Swansea Rotary Club will celebrate their centenary in 2019.
Published: Tuesday 30th May 2017