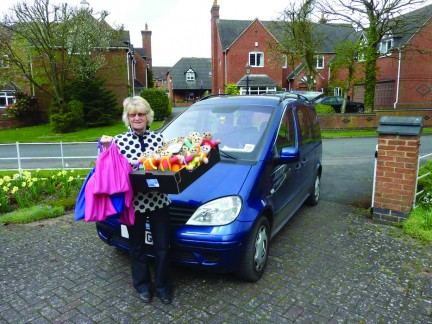 Back in 2011, Elaine Turner of the Rotary Club of Lutterworth, responded to a church appeal to knit teddies for sick and traumatised children. She went on to form a knitting club which has since sent 2,549 teddies to children in hospitals in the UK, Australia, Ethiopia, Peru, Portugal, Cameroon, Ghana, Malawi, Sierra Leone, Tanzania and Zambia.
When Elaine originally put an appeal in the local paper for people to knit teddies, she received over 200 requests for the knitting pattern and was soon receiving around ten teddies a week.
Elaine said: "The teddies help sick and traumatised children recover more quickly and in some cases, children talk to their teddies rather than to people, which aids their recovery. For one young orphan in Kenya, it was the first toy he had ever had, so there is no doubt that the teddies are working their magic."
Elaine added: "It is not just the children who benefit. Some of the knitters are disabled and love making the teddies. They knit them in their own homes and are really pleased to be involved in such a worthwhile activity."
There are now around 15 knitters in Elaine's knitting group and one lady alone has knitted 136 teddies.