The Gift Of Life – Rotary Good News Week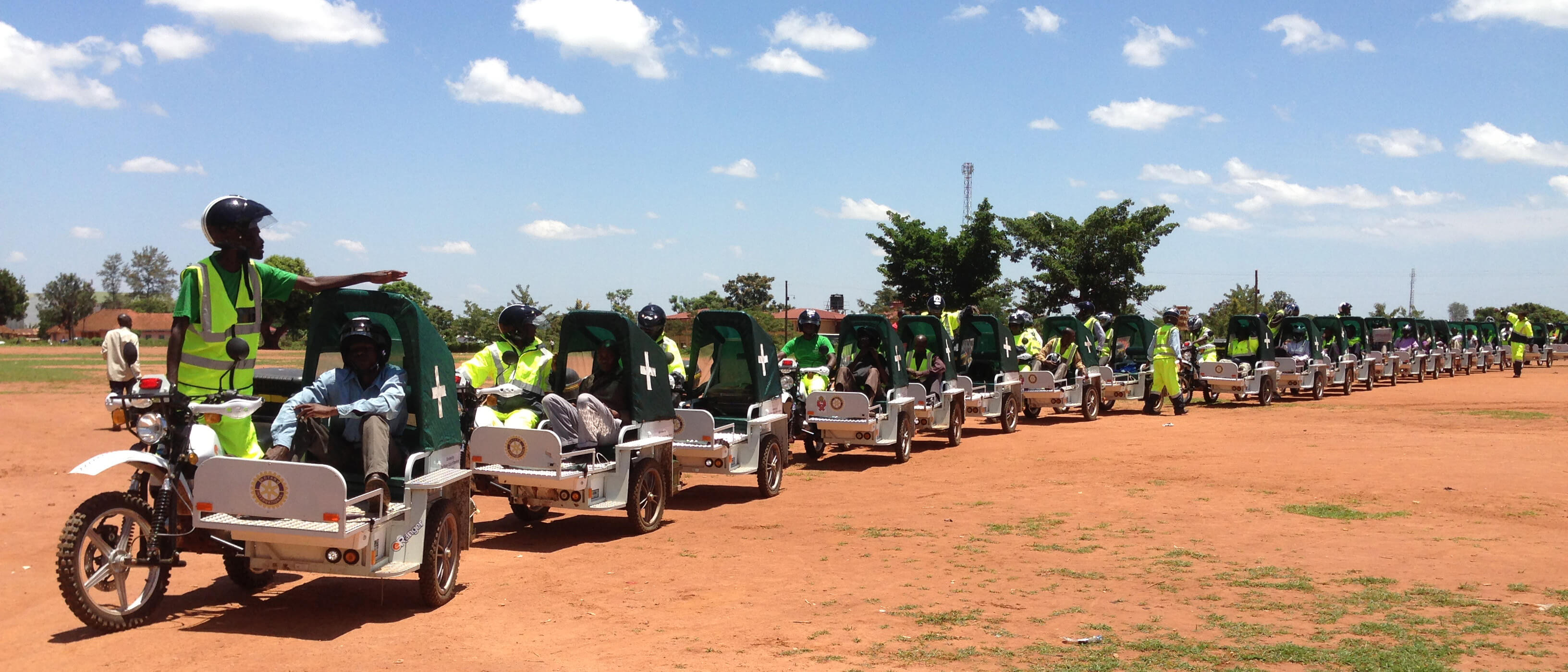 In the Mbale region of Uganda, there is high incidence of death in pregnant women and their unborn child and one Rotary member set out to change that.
Often deaths occur because there are no methods in place to be able to respond to a medical emergency quickly, in particular in Mbale, where the majority of the terrain makes it difficult for ambulances to gain access to patients' homes.
To help, Roger Neuberg from the Rotary Club of Oadby launched his Uganda eRanger Project, with the aim of providing a fleet of 20 eRanger motorbike ambulances.
Over two years, Roger drummed up support for his project and raised £143,000 – enough to buy and ship 32 eRangers to Uganda.
Between June 2014 and December 2015, the fleet of eRangers carried out more than 13,000 emergency call-outs. Just over 50% were for emergencies arising in labour and the remainder chiefly for emergencies arising in under-fives.
Roger explained: "When I visited Mbale I found that each eRanger was extraordinarily valued by the community it served. The communities develop a sense of ownership of the bike. A number of communities have set up associations for savings from their own resources to help in the maintenance of the service.
"I came across eRanger drivers who were so committed to the service that they would supplement the costs of running the bikes out of their own very low salaries. Over and over again I spoke to patients who were convinced that they would have died had it not been for the eRanger service."
Roger was a winner at the 2016 Champions of Change Awards at the House of Lords, Rotary's annual event celebrating unsung heroes for their outstanding domestic and international humanitarian service.
He continued, "I found the eRanger that had been donated by my own club at the local District Hospital. The driver told me that the mother had delivered the first twin in her village hut but the second twin could not be delivered.
"On the only road to the hospital from her village, the eRanger driver found the road completely blocked by the monthly market. They moved back every stall and massive sacks of vegetables to allow the eRanger through. The second twin was delivered successfully by emergency caesarean section.
"Instead of the fear that pregnancy was likely to cause death, access to an eRanger has given women an enormous sense of confidence and the real hope and expectation of a future for themselves and their babies."
Nominations for the Champions of Change 2017 are now open and we are excited to introduce the Community Champion Award to recognise inspirational non-Rotary volunteers. Find out more about Champions of Change.
Published: Wednesday 23rd November 2016
This week is the second Rotary Good News Week. Over the next five days, we'll be celebrating five special stories from Rotary clubs and members from across Great Britain and Ireland.
To follow Rotary Good News Week, keep your eye on our Facebook and Twitter pages and use the hashtag #RotaryGoodNewsWeek to share your stories.
Read our other Good News Stories from this week below: