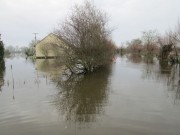 As severe flooding continues to affect many areas of the UK, RIBI is re-launching its UK Flood Appeal to help the thousands of people whose homes have been damaged.
Some Rotarians in the South West of England have had their own homes flooded and many more have been out and about knocking on doors to check that people are all right. The Rotary District which covers Somerset has set up an account where people can make donations in their own local communities.
In Minehead, teams of Rotarians have been deployed in the Blue Anchor bay areas, visiting residents in mobile homes near the seafront to warn them of the potential risk of impending high tides.
Rotarian Robin Brown, Community Resilience Coordinator for the Somerset area said: "With the region still on high alert for flooding, the emergency services are in control of the situation helping people who are cut off in their homes and ferrying in supplies. We are currently going from door to door in the villages most affected where we complete questionnaires with the residents on behalf of the local authorities. If no one is at home, we leave a leaflet with updated details and contact numbers where they can obtain help.
"We can predict that this tragedy will leave many families in dire circumstances when the water finally recedes; property damaged, belongings gone and homes destroyed. In many of these areas appropriate insurance is often simply not available."
President of RIBI, Nan McCreadie said: "We are re-launching our UK Flood Appeal as we know from previous experience that once the water levels finally start to drop and the clean up begins, the real work will begin. For many people it will be months before they can move back into their homes. Money donated to the fund will be used to provide help with the repair, refurbishment or replacement of community facilities damaged by the floods."
To donate to Rotary's UK Flood Appeal , please contact your local Rotary club or you can send a cheque to: RIBI Donations Trust, Rotary International in Great Britain and Ireland, Kinwarton Road, Alcester, B49 6PB. Please make cheques payable to RIBI Donations Trust and mark your envelope 'UK Flood Appeal', or make an online donation through our BTmydonate website.