Ice Cream
Clubs across Great Britain and Ireland have come up with lots of fun and innovative ways to raise awareness for Rotary's polio eradication campaign and the latest project from the Rotary Club of Huntly in Aberdeenshire really is one for the sweet tooth.
The premier Purple4Polio Ice Cream was the brainchild of the Rotary Club of Huntly member Paul Robinson, and then ably supported by fellow members Stuart Wright and Philip Morrison who saw it as a great way to tie in with Rotary in Great Britain & Ireland's Purple4Polio campaign.
Philip is a Director at James Rizza's & Sons Ltd, an ice cream manufacturer based in Scotland, which created this tasty, blueberry flavoured treat which was launched in Northern Scotland in October 2016.
While the Purple4Polio ice cream is now available across the majority of Great Britain, it is not available in Ireland because Rizza's do not have and Irish-based wholesaler.
Size

Pack Size

Total List Price
(ex VAT)

Total List Price
(inc VAT)

Recommended Selling price per tub

1 litre

6

£18.30

£21.96

£4.50

125ml

12

£12.00

£14.40

£1.75
Buying the Purple4Polio Ice Cream can make a huge difference to children by providing them with potentially lifesaving protection against this crippling disease.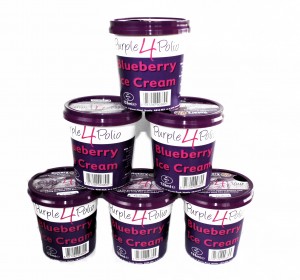 How is this done?
1. When a Rotary club or other organisation, group or business buys the ice cream, a contribution towards immunisation has already been included in the price they pay.
For example, when a 12 pack of 125 ml tubs is bought, this contributes to 12 polio immunisations. With a pack of 1 litre tub, this rises to 18 polio immunisations.
As at 31st May 2018 Purple4Polio Ice Cream Sales have contributed to the equivalent of
15,496 polio immunisations

2. Non-Rotary organisations – If you make any profits by selling the ice cream at more than the recommended selling price we would love you to donate the surplus to the Rotary End Polio Now campaign. You can do this by contacting your local Rotary club or by sending the money directly to The Rotary Foundation team at the Rotary Support Centre. You can do this by cheque, or by contacting the team directly.
3. Rotary clubs – Any profits that a Rotary club makes by selling the ice cream at more than the recommended selling price should be paid across to Rotary Foundation UK and don't forget to indicate it is End Polio Now giving when you send it in so it can be credited to your club's polio contributions.
Start planning now how you can use the Purple4Polio ice cream – as dessert at a dinner event, selling ice creams at a summer fete, children's parties, helping with polio fundraising by Interact and RotaKids and any other great ways you can think of to have Purple4Polio fun and raise the profile of Rotary and End Polio Now!
Purple4Polio Ice Cream can be obtained from the following wholesalers, just contact your the local supplier corresponding to your post code.
When ordering, please remember the pack sizes (12 x 125ml and 6 x 1 litre cartons). The minimum order for the 125ml cartons is normally 5 cases (60 cartons), but do check with the wholesaler as smaller quantites may be available.
Clubs should contact the wholesaler at the earliest opportunity to discuss orders and delivery.
Wholesaler

Contact

Post Code

Tel

Email

Rizzas of Huntly

AB, DD, KW, HS, IV, ZE & PH 10 to 14, PH 19 to 26, PH 30 to 35

01466 792847

JB Foods

Alastair Watson

EH, TD

07803 513748

JB Foods

Amanda-Louise Brown

FK, KY, PH 1 to 9, PH 15 to 18,
PH 36 to 44,
PH49 & 50

07525

814032

JB Foods

Caroline McBean

DG, G, KA,
ML, PA

07968 172597

Consort Frozen Foods Ltd

Jess

England & Wales

01444 686144