Working Away For The Community – Rotary Good News Week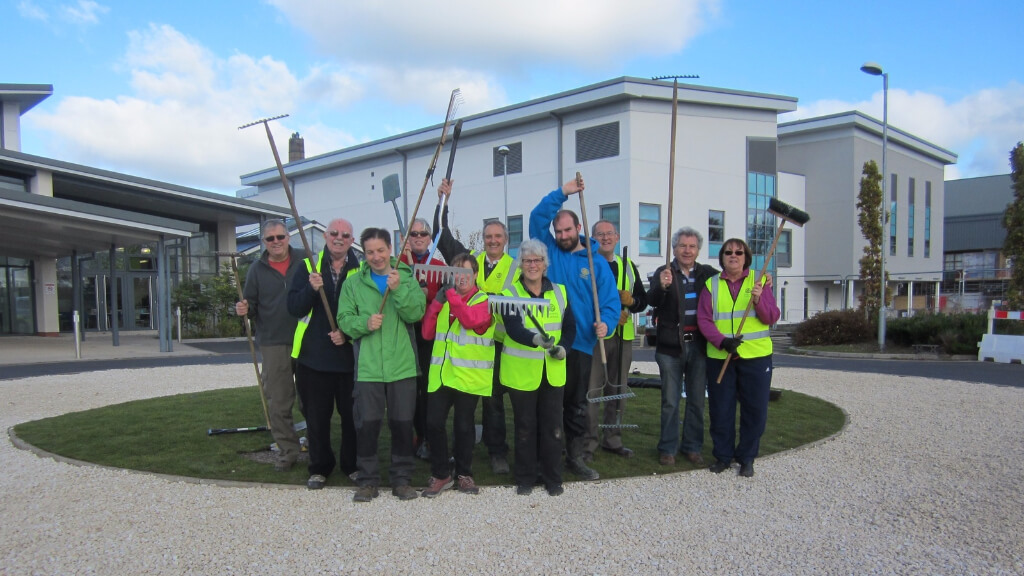 Those arriving at Robert Jones and Agnes Hunt Hospital in Oswestry will no longer be met with a neglected and unkempt roundabout thanks to the work of one of the town's Rotary clubs.
Volunteers from Oswestry Cambrian Rotary Club took on the challenge of adopting and refurbishing the roundabout after becoming a friend of the hospital.
Working with local builders and business, who were kind enough to donate time and materials, the team set about giving the roundabout a new lease of life by removing weeds, laying turf and spreading chippings.
The club also took the opportunity to plant nearly 400 purple crocus bulbs in one segment of the roundabout which will bloom this spring to celebrate 100 years of the Rotary Foundation as well as Rotary's End Polio Now campaign.
This will be a particularly fitting display as the hospital, which was founded in 1900, has as part of its long history been involved with caring for polio victims and their extensive archive includes photographs of iron lungs, which are used in the treatment of polio.
This is one of hundreds of examples of who Rotary clubs across the country are making a difference in their communities. Get in touch to get involved in your community.
Published: Monday 23rd January 2017
This week is the fourth Rotary Good News Week. Over the next five days, we'll be celebrating five special stories from Rotary clubs and members from across Great Britain and Ireland.
To follow Rotary Good News Week, keep your eye on our Facebook and Twitter pages and use the hashtag #RotaryGoodNewsWeek to share your stories.
Read our other Good News Stories from the week below: