Sheenah Nelson has shown huge dedication to the community by campaigning to improve survival rates of heart attacks and cardiac arrests.
Sheenah is Heartstart Co-ordinator for Helensburgh and Garelochside Rotary Club and has made it her mission to train up people across the community to save lives.
In 2015, the Scottish Government's 'out of hospital cardiac arrest strategy' was introduced to try and improve the statistic that only 1 in 20 survive a heart attack, a lower rate than in many European countries.
From speaking to paramedics Sheenah discovered that when they arrive at the scene of a cardiac arrest, they often are the first ones to begin CPR. However if the public/friends/family members began CPR straight away, the likelihood of surviving the cardiac arrest would be greater.
Sheenah decided to take action and began campaigning to raise awareness, train more people in CPR, and fundraise for defibrillators to be put in communities.
As a result of her hard work, 207 defibrillators have been funded and placed within communities, and over 5,000 people have been trained to deliver CPR and how to use the defibrillators. This has led to 22 lives saved, within the past 4 years.
Heartstart became part of the curriculum in schools, with Sheenah and other members of the Heartstart first responder's team teaching children and teachers the vital skills which could lead to them saving someone's life.
Sheenah recalled: "at one school, we were sitting the children down to teach them how to do CPR and one little boy came running up and tugged on one of the responders' shirts. The boy then said "this is my friends John he helped my mummy when she couldn't breathe".
Sheenah is full of so many stories about how CPR and training has been able to save so many lives.
Sheenah added: "I am astounded the amount of times children who have been trained by Heartstart have been the ones to give CPR and save a life.
"The youngest person has been an 8 year old boy who saved his 2 year old  sisters life when she was choking by giving her CPR." (pictured below).
But it's not just schools who are getting involved. Local authorities, sports groups, and community groups in the area are now allocating funds to install defibrillators and seeking training for their members and groups.
As Sheenah continues to raise awareness about the importance of CPR training and defibrillators, the more people want to benefit from the training so they are prepared if they ever have to deliver CPR.
For more information on Heartstart and the work they do visit their website.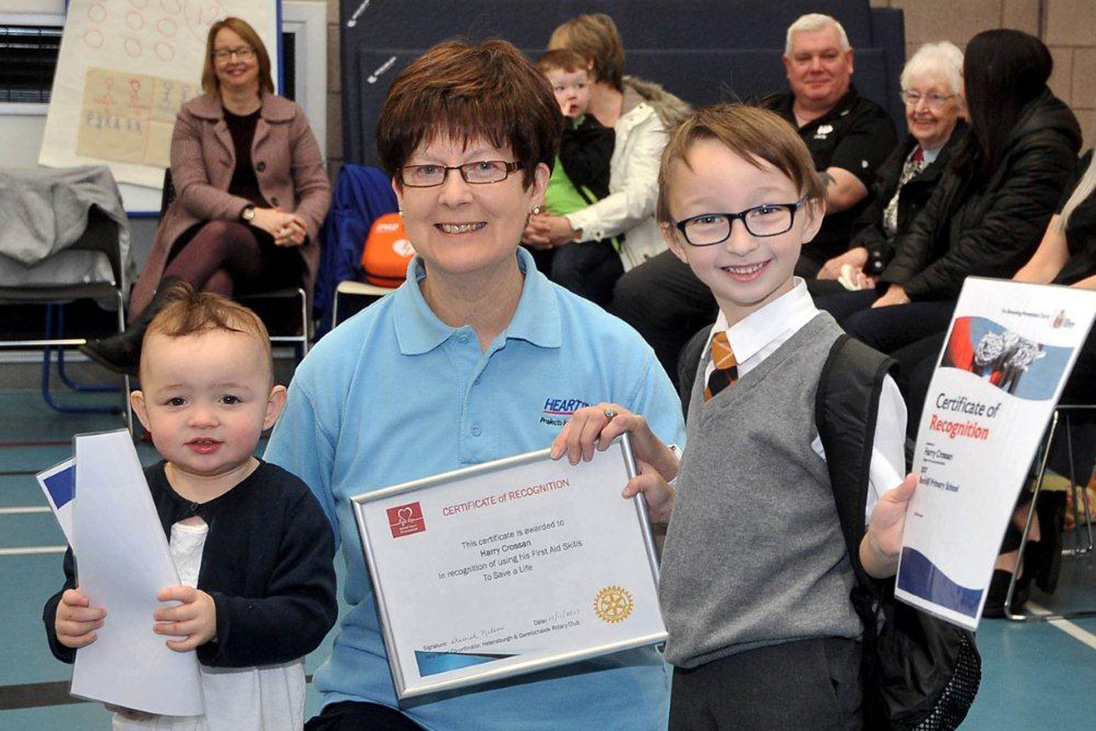 Ash Razzaq has been working tirelessly on CATCH (Community Action To Create Hope) for over 10 years, to improve the lives of young people in the heart of a challenging and diverse area of Leeds. His efforts have been recognised by Roundhay Rotary club who nominated him for the Community Champions award.
25% of the population living in the area had been in the UK for less than 10 years with new families arriving on a weekly basis. The result of this was community tensions and lack of cohesion  between the young people. In addition, due to a lack of trust and confidence in the police, there was a clear gap identified with engagement of young people. By creating CATCH, Ash brings the community together delivering with the community rather than to the community.
The principle of CATCH is to create a safe space for children to meet, play, socialise, learn, grow and divert from anti-social behaviour and crime.
Ash started the charity from scratch which faced many obstacles along the way, but his persistence and determination overcame these issues and his hard work paid off. He continued to develop CATCH with the full support of the West Yorkshire Police.
Ash has built a team of volunteers of all ages, backgrounds and ethnicities which truly reflect the community he serves. This allows him to build peace, harmony and a sense of belonging to individuals and communities who have been lacking purpose and support.
His vision and enthusiasm captivated individuals, the community, partners and businesses to become part of this innovative project which has become a volunteer-led charity.
Over the last three years, the project has rapidly expanded and has now funded a centre for young people in the area to come and play within a safe environment. It allows children and young adults to grow and encourage opportunities which they may not have had before.
One young person who had his life transformed by CATCH is 15-year-old George, a Rotary Young Citizen winner from 2019. The programmes and support CATCH have in place, allowed him to turn his life around and get the support and encouragement he needed.
CATCH runs a range of activities for children and young people based on the following principles: engagement, education, intervention, diversion and prevention.
CATCH has helped tackle problems, build confidence, and work collaboratively to improve outcomes for young people. The project has been recognised within its region for all it is contributing to the community by winning awards such as 'Best place in Leeds for Children and Young People 2018'.
The success of CATCH is testament to the commitment and hard work of Ash who has led volunteers, partners and gathered the support of the wider community. The strategic vision of Ash and his team have ensured a sustainable model that is led and serviced by the community.