At least seven people died during the magnitude 6.4 earthquake which rendered hundreds of people homeless.
The earthquake that hit Croatia on December 29th and destroyed significant parts of the old towns of Petrinja and Sisak, about 40 km from the capital Zagreb, which itself suffered minor material damage.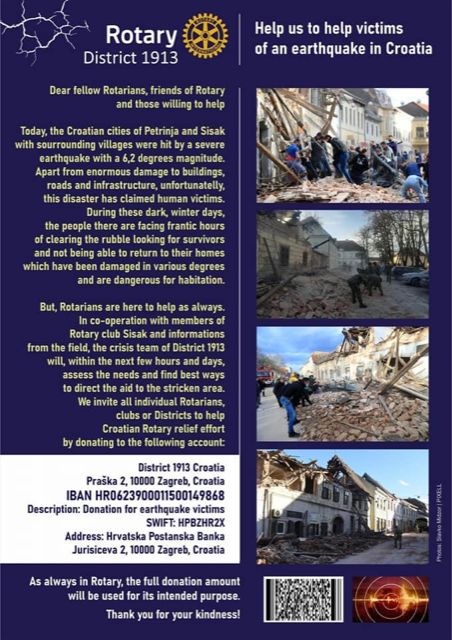 Members of Claverhouse Rotary near Dundee, Scotland, who have close links with the Rotary Club of Zagreb, have already contributed to an appeal.
The region is still suffering some 20 smaller tremors a day leading to widespread fear and feelings of even greater uncertainty.
Many people in Sisak, Petinja and the surrounding hamlets lost everything: their loved ones, their place of residence, place of work and family and business life.
In the way that only Rotary can, clubs throughout Croatia have united to help alleviate the pain and suffering of those most affected and least able to cope.
The Governor of Rotary District 1913 is coordinating assistance and has launched an appeal to Rotarians throughout the world to provide whatever help they can to this desperate cause.
Claverhouse Rotary is encouraging clubs to support the appeal whose details are:
District 1913
Hrvatska Praška 2, 10000 Zagreb
Croatia
IBAN HR2923900011500200476
Purpose of payment: DONATION – EARTHQUAKE
---
Meanwhile, the Rotary-supported charity, Village Water, is looking for support following a latest tropical cyclone in Mozambique.
Last month, Tropical Cyclone Eloise caused widespread damage and heavy flooding in central Mozambique.
The storm displaced more than 16,000 people, damaged around 17,000 houses, and killed more than a dozen people across a number of countries in south-east Africa.
Last month, Tropical Cyclone Eloise caused widespread damage and heavy flooding in central Mozambique."
Rotarians in Great Britain & Ireland have previously supported Village Water's safe water projects in response to Cyclone Eloise in Mozambique in 2019.
Village Water has been working in Mozambique since 2016.
Since then, they have significantly scaled up their work with over a thousand local communities to improve access to clean water, improve sanitation and hygiene education.
Fund-raising officer, Beth Llewellyn, said: "Mozambique, specifically the regions we work in in Manica, have been struck by another disastrous tropical cyclone.
"We're currently running an emergency appeal to raise money for motorbikes, along with some other capital items, so our staff members are able to safely reach communities who are more cut off than ever before, and in need of support.
"These communities have already been left incredibly vulnerable from COVID-19 so we need to ensure they have the supplies and resources to prevent disease from spreading."
COVID-19 cases in Mozambique have risen by 82% during January, and the United Nations' health agency has said the new aggressive variant is behind the huge spike.
For more details follow: https://villagewater.org/cyclone-eloise/