David Welch from the Emergency Volunteer Action Group covering Somerset, Dorset and Wiltshire, has written to Rotary clubs in the region praising them for their "significant impact" supporting their communities in response to local authorities.
David wrote: "Well over 100 Rotarians are now involved in supporting, and more will be added soon.
"This is all the more impressive in the light of our demographics and the resulting vulnerability. The Rotary footprint has most certainly been enlarged over recent weeks."
Well over 100 Rotarians are now involved in supporting, and more will be added soon."
Marshalling support has been provided for Covid clinics in Crewkerne, Wellington, Wincanton, Minehead, Wareham and Taunton for the first wave of vaccinations. And this has been further supported in Bath, Salisbury and Swindon.
"Of course, as second vaccinations take place, the authorities will need us even more as the weeks roll on," said David.
Elsewhere in District 1200, Rotarians in Dorset are assisting, from home, care homes with administrative work as the depleted staff place priority on client care.
Chippenham and Bridport Rotarians have organised an impressive programmes collecting laptops which have been distributed to schools, once wiped clean and with software installed.
Meanwhile, Somerset Community Volunteers are distributing flood packs to homes in danger of flash floods.
Praise has also been foisted on Rotarians who are helping with vaccination efforts in south-east England in District 1120.
Co-ordinator, Brenda Parsons, received a letter from the Sussex Resilience Forum thanking Rotary in the region for their work.
Superintendent Marc Clothier from Sussex Police wrote that he particularly wanted to thank those Rotarians who "so ably and professionally assisted as volunteers supporting the COVID testing at Newhaven Port over the Christmas period".
He added: "Your continued commitment and dedication never fails to impress and astound us.
"To respond to such a challenging situation, not least at Christmas, was not only welcome but critical to us getting more than 100 people home to their families for Christmas.
"We are so very grateful for all your time and effort in supporting us.
"Without your valued support we would not have been able to deliver the level of response we have in keeping freight movements flowing at a critical time in unprecedented circumstances."
Rotarians all over the country are among the many volunteers assisting at the COVID-19 vaccination centres.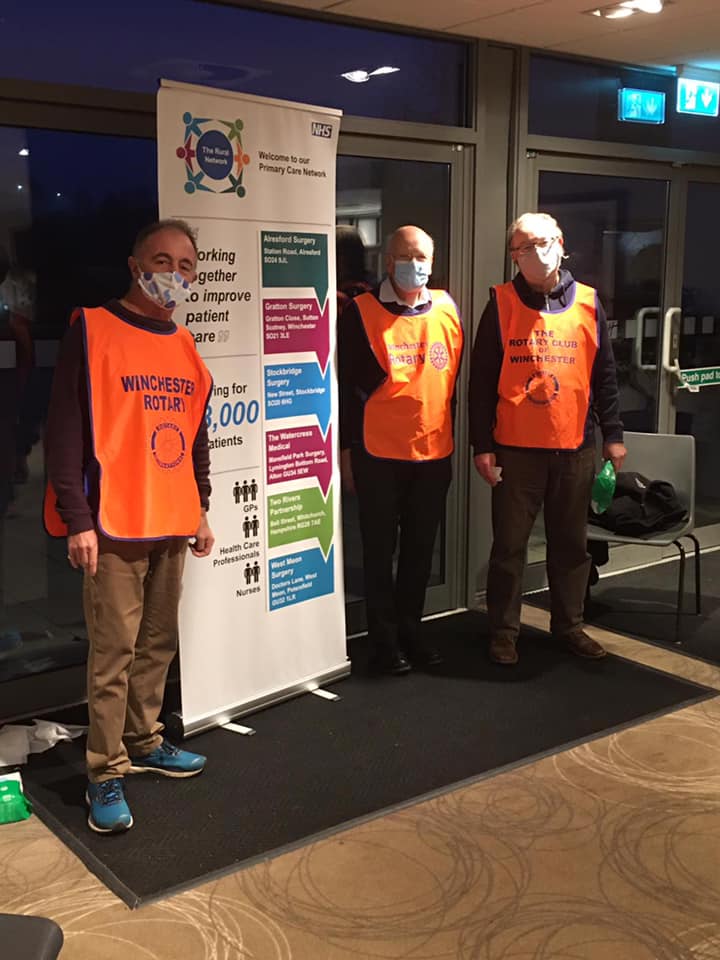 Winchester is no exception and members of Winchester Rotary, plus relatives and friends, including the Rotaract Club of Winchester, are among a group of 50 helping at the centre based at the Holiday Inn.
Volunteer roles changed as the vaccination system evolved.
This included meeting and directing patients from reception to vaccination area, ensuring social distancing, directing patients to the vaccination stations when ready, and sanitising seats in post-vaccination waiting area.
More recently, the Rotarians have been assisting with administrative duties.
The Rotary team has received a very friendly and positive reaction from all attending for vaccinations and many complimentary comments have been received.