Cash and practical help worth more than £50,000 has been donated by Rotary in the North East since the start of the pandemic eight weeks ago.
The region's 56 clubs have undertaken dozens of projects and handed out tens of thousands of pounds to charities and organisations badly affected by the Covid-19 crisis.
Foodbanks, cancer charities, the NHS, neighbourhood support groups, schools and care homes across the region are just some of the organisations which have benefited.
Rotary North East District Governor, Jacqui Molyneux, said: "Rotary in the North East has always helped good causes, organisations and individuals wherever we can – it's what we're here for.
"But since the start of the pandemic our 1,300 members immediately pulled out all the stops, not just in terms of giving away a large amount of cash, but giving a great deal of valuable practical help to a wide range of people."
Examples of cash donations include:
£450 for an iPad for the Abbeyfield residential home in Alnwick by Alnwick Rotary.
£3,000 for 750 surgical visors for three hospitals by Whitley Bay Rotary.
£925 for protective visors for care homes by Chester-le-Street Rotary.
£2,000 to St Teresa's Hospice in Darlington from Darlington Rotary.
£400 for care packages – food and essential items – in Teesdale by Barnard Castle Rotary.
£250 for children's books for home learning from Sedgefield Rotary.
£500 for Wearside Women in Need by Washington Rotary.
£500 for emergency food and clothing from Newton Aycliffe Rotary to Junction 17, which helps needy families.
£835 for books and food from Sunderland Rotary's satellite club for the Kenya project.
Jacqui said: "Of course, like everyone else who depends on planned events, our fund-raising activities have been curtailed, but the reserves we have given out are really making a difference in our communities."
Rotarians have also been volunteering and giving valuable practical help – delivering food and medicines, telephoning and checking on the vulnerable, sewing hundreds of uniform bags and scrubs for NHS and care home workers, delivering community newsletters, walking dogs and gardening.
At times like this – when some of our own members are isolated for health reasons – Rotary has pulled together to try and make life a little better for those less fortunate then themselves."
Jacqui added: "At times like this – when some of our own members are isolated for health reasons – Rotary has pulled together to try and make life a little better for those less fortunate then themselves.
During this time of unprecedented Covid-19 crisis, the services of local foodbanks are needed more than ever.
The most vulnerable people in our communities, who were already struggling, are now facing further challenges due to the pandemic.
In Lutterworth, Leicestershire, the foodbank reports that from mid-March to the end of April, they have seen an almost 100% increase in the number of three-day food parcels which have been distributed across their two centres in Lutterworth & Countesthorpe.
During this time of unprecedented Covid-19 crisis, the services of local foodbanks are needed more than ever."
In that time, 379 three-day parcels have been processed; the staggering equivalent of 3,411 meals and 3.5 tonnes of food.
Lucy Freeman, Project Manager for the Lutterworth & Villages Foodbank, was delighted with the £500 donation from Lutterworth Rotary.
She said: "As part of the Trussell Trust, we are campaigning for the day when our services are no longer needed. But we know that, for the foreseeable future, we will need to play a crucial part in supporting the most vulnerable amongst us.
"We have been overwhelmed by the generosity of our wonderful communities who all continue to donate food and support us with financial donations. We have received more than 3.5 tonnes of food donated in April alone!
"And thank you to Lutterworth Rotary whose generous donation allowed us to purchase the extra supplies of items we were short of to ensure our emergency parcels remained balanced and as helpful as possible to our clients."
Also in Leicestershire, Leicester Rotary have helped Age UK in the town by donating freezers and racking. They now how a tidy emergency support hub to store vital items donated for food parcels.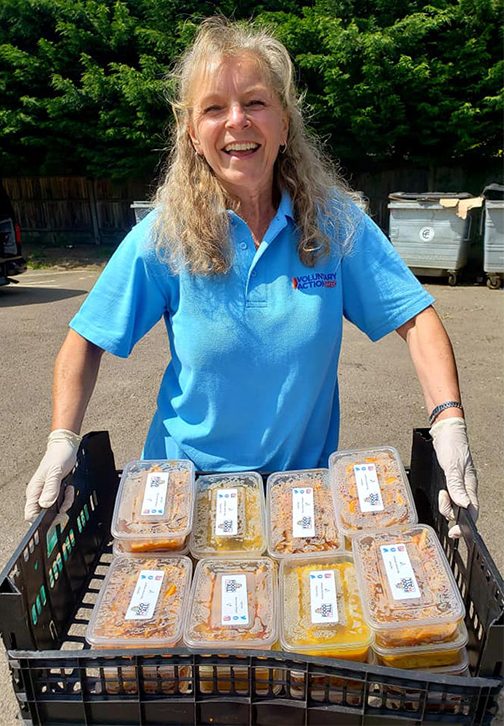 In East London and Essex, Loughton, Buckhurst Hill & Chigwell Rotary has been working with Voluntary Action Epping and Food4All to deliver meals to residents in the area.
Led by Pesh Kapasiawala, they have been helping the residents of Epping Forest District's sheltered housing schemes by producing 200 meals.
In West London, Hounslow Rotary has transferred the second tranche of money to the Hounslow Open Kitchen – a community kitchen which has been serving hot, nutritious food to the homeless and low-income families in the borough.
Rotarian Mukesh Malhotra said: "The service is not just for homeless people and low-income families in the borough, but for anyone facing food poverty or hunger and in need of a hot nutritious meal.
"There are no restrictions as to who may use the kitchen and no questions are asked, other than that our volunteers are treated with respect."
Prior to the lockdown, they used to be a community cafe providing 120 meals daily free to the local community. Since lockdown, Mukesh reported more than 300 meals are collected daily and they are delivering meals to more than 125 individuals daily.
Through its members, Rotary Hounslow has delivered 400kg of rice and pasta, and 250 tins of food.
"During Ramadan, it's especially hard for many individuals and this service has been so helpful during this COVID-19 lockdown period," added Mukesh.
In Scotland, Penicuik Rotary near Edinburgh has risen to the challenge by dropping off items to the Food Fact Friends foodbank which operates from St Mungo's Church Hall.
The foodbank is currently operating two days a week in Penicuik and Woodburn.
In the past two weeks the foodbank has given out enough food for 4,600 meals. In the two weeks prior to COVID-19.