The amount of money The Rotary Foundation has awarded annually in Global Grants has more than doubled since the grants were introduced; from $47.3 million in 2013/14 to $130 million in 2021/22. Yet demand for Global Grants is so high that it has outpaced Annual Fund contributions, which means not all eligible Global Grant requests can receive funding.
To ensure that The Rotary Foundation can fund as many Global Grants as possible in the future, the Trustees of The Rotary Foundation approved policy changes effective July 2021. These changes will improve the Foundation's ability to support more large-scale, sustainable projects for years to come.
---
Listen to this article
---
Our funds:
Annual Fund, sometimes known as SHARE, is the primary source of funding for a broad range of local and international Rotary Foundation activities.
Every Rotarian, Every Year (EREY) is an initiative to encourage every Rotarian to invest in the Annual Fund every year, no matter how large or small may be the amount.
Contributions to the Annual Fund from Rotary members and other donors are directed into two sub-funds: the World Fund and District Designated Funds. Through the SHARE system, contributions are transformed into grants.
The World Fund provides funding for our highest-priority activities around the globe. 47.5% of Annual Fund-designated contributions are applied to the World Fund.
The Foundation uses the World Fund to pay for grant and programme opportunities available to all Rotary districts including PolioPlus, Rotary Peace Centres, Programmes of Scale grants, Global Grants, and more.
District Designated Funds (DDF) can be used by districts to pay for Foundation, club, and district projects that a club and others in the district choose.
Districts may use up to half their DDF to fund District Grants. The remainder may be used for Global Grants or donated to PolioPlus, the peace centres, or another district.
The Endowment Fund, financed by cash gifts and bequests left by Rotary members and their families, ensures the long-term viability of the Foundation and its grants and programmes.
Spendable earnings from the Endowment enable the Foundation to expand existing activities and underwrite new ones.
Contributions are invested in perpetuity. A percentage of the total value of the fund is directed annually to Foundation grants and programmes.
Disaster Response Fund
The Rotary Foundation supports disaster relief and recovery efforts through grants from the Rotary Disaster Response Fund.
Districts that have been affected by natural disasters can use Rotary Disaster response grants to launch their own projects or work with established relief organisations to help their communities recover. Grant funds can be used to provide basic items such as water, food, medicine, and clothing.
Districts work closely with local officials and groups to ensure that the funding will meet a specific community need.
How to donate
Donating to The Rotary Foundation is making an investment in the future of our society. Doing so is simple, particularly by card and online. Rotarians in Great Britain and Ireland should go to the Rotary GB&I website, where there is a 'DONATE' button at the top right of the home page. Clicking that takes the donor to the Donate page with some initial information.
his page also includes icons facilitating donations direct to projects in any one of our seven areas of focus.
Each of these icons opens a screen allowing single or regular donations and of set amounts or an amount of the donor's choice. The money is collected by a credit or debit card payment. Other means of paying RFUK are detailed on the same pages.
Recognition
All our donors receive thanks and recognition for their donations from us. Further detail of recognitions is on the RI website.
Gift Aid
Donations made by UK taxpayers can benefit from Gift Aid. The Rotary Foundation UK can claim a significant additional 25% from HMRC, provided the donor pays sufficient UK tax to cover that amount and completes the appropriate gift aid form. Those are available on the Rotary GB&I website.
---
How are the Funds Disbursed?
50% match on DDF contributions to PolioPlus
DDF contributions to PolioPlus are matched by the World Fund at 50%. The Bill & Melinda Gates Foundation continues to match 2-to-1 every dollar that Rotary commits to polio eradication, up to $50 million per year. That underlines why it is vital we continue to make fundraising for polio eradication a top priority.

80% Match on DDF Applied to Global Grants
In past years, the World Fund has been depleted before the Rotary year ends. To ensure the Foundation can fund more of the eligible Global Grant requests received, DDF applied to Global Grants is matched at 80% (rather than 100% as in earlier years).
Note that there is there is no match from the World Fund on cash contributions to grants.

Shared Funding of Operating Expenses
5% of Annual Fund contributions are used to cover Rotary Foundation operating expenses. 95% of donations to the Annual Fund are split equally between DDF and the World Fund. Five per cent of Disaster Response Fund contributions are retained towards
operating expenses.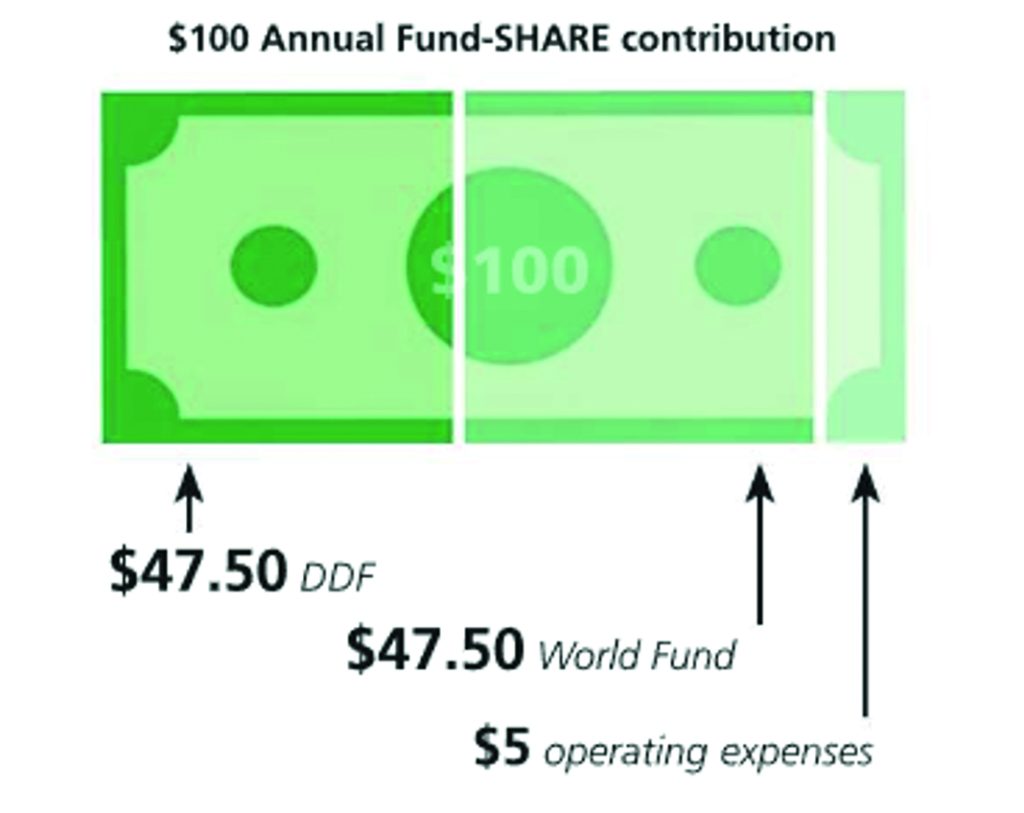 Five-year Limit on DDF Carry-Over
Donors contribute to the Annual Fund with the expectation that these donations will be used to help communities in the near future. However, the amount of DDF carried over from year to year remains high. For example, in the year 2021-22 in Rotary GB&I alone over $1.2 million of DDF was unused. This was carried forward to the current year.
Starting on 1st July 2026, and at the end of each Rotary year thereafter, DDF amounts that have been held for five years or more must be used. DDF that is not used can be applied to the Disaster Response Fund, the Endowment Fund, PolioPlus, the Rotary Peace Centres, or the World Fund, at the district's discretion. If no fund is selected by the district the carry-over will be allocated to the World Fund.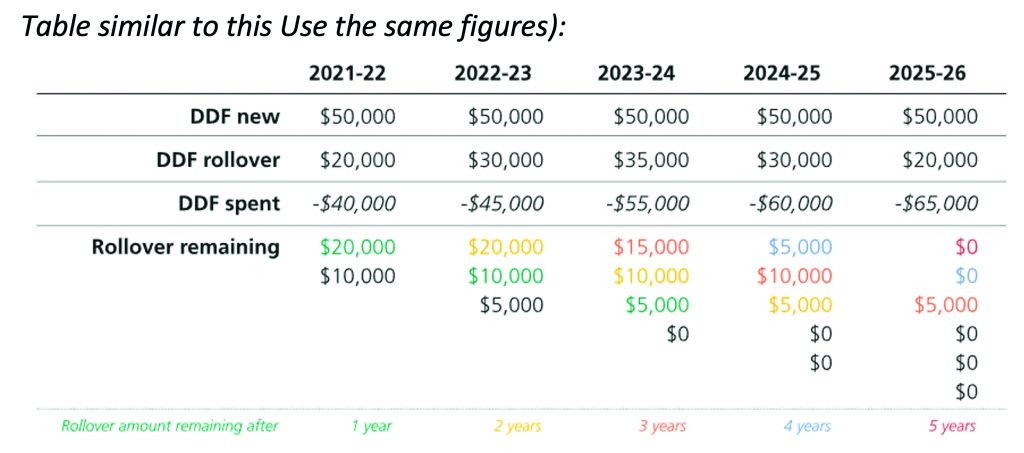 Further information
There is a wealth of information on the grants provided by The Rotary Foundation to support projects and programmes which Rotarians wish to support and on the funding programmes. Just search 'Rotary Foundation Grants'. The financial reports of The Rotary Foundation and of Rotary International are published annually on the RI website
(search for 'Rotary financials').