The Champions Awards recognise individual heroes for projects at home or overseas.
Here, this year's Champions write in their own words, about what their project means to them, what it entailed and how it has made a difference.

Author: Angela Williams
The Sightbox Trust was launched back in April 2016 through the Rotary Club of Liverpool St. Vincent's from the ideas of the children at St Vincent's School for the visually-impaired.
In 2018 we became a charity in our own right.
A Sightbox is a container filled with equipment which provides blind and visually-impaired children with the technology needed to access sports and have a more independent lifestyle.
Each Sightbox includes a goalball, a Boccia grid and balls, running tethers, blindfolds, various other balls and a ball pump.
In two years, Sightbox has sent out 16 boxes to schools for visually-impaired and 25 sight bags to individuals – these include a sound ball, a talking stopwatch, a running line and a talking pedometer, which are intended to foster independence.
To see the faces of these visually-impaired children when you throw them a ball with a bell inside, is very humbling."
We have reached out to countries like Nepal, Pakistan, Rwanda, Kenya, Sierra Leone, British Virgin Islands, Uganda and The Gambia.
I was at the launch of this project in the Town Hall, Liverpool, and, after some fund-raising, was given the chance to take the first box to Nepal.
Seeing the immediate impact which the contents of the box had with the children, I knew I had to continue with this project.
To see the faces of these visually impaired children when you throw them a ball with a bell inside is very humbling.
These children come alive as they have never had the chance to play sport. To know and now see that, from continuing to play with the balls and other contents of the Sightbox, their confidence improves as well as team-building and independence.
As this grows, it will hopefully lead to employment rather than segregation.
You cannot tire from seeing a happy smiling face as you release the lid and throw a ball.
I quote the words from a nine-year-old boy at an orphanage in Kathmandu, Nepal.
"Thank you, Miss, for coming to see me today. You have made me very happy as I can now play with a ball. I have never had one before. Thank you so much."
I have just recently retired from my work so that I can promote this project further around the world.
In November this year I am moving to The Gambia, with my husband, to further the project in West Africa.
Having spoken at the D9101 Conference in The Gambia in March this year, all of the other nine countries making up the District are now fund-raising or applying for funds so that they can have Sightboxes sent to the schools for the visually-impaired in their country.
Lesson plans are now being put together in all languages where the boxes have gone, so the children can become the trainers. Other ideas are being developed for the box, such as music, IT and creative artwork.
I am so proud to be an ambassador for Sightbox, and I will continue to spread the word. I look forward to the continuing support of Rotary and being involved with the House of Friendship at the Rotary International Convention in Hamburg.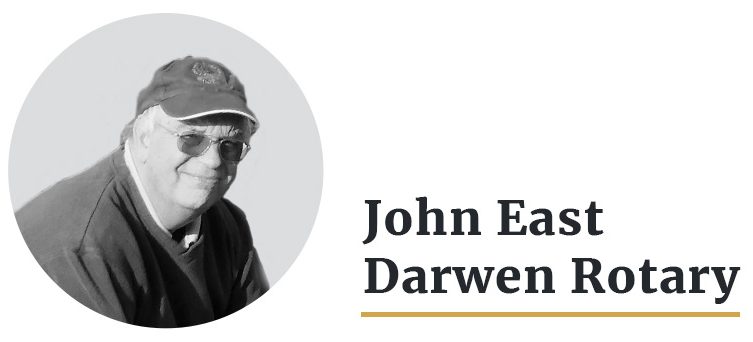 Author: John East
I come from Darwen in East Lancashire where I left school at the age of 15. I went to work first for the Lancashire Evening Post as an office boy and later for a variety of local newspapers in Chorley, Lancaster, Burnley and in the North West.
I managed to work my way up from being an office assistant through to newspaper sales and promotion, advertising, until I was earmarked to set up and run the 'Newspapers in Education' scheme which visited schools using newspapers as a curriculum tool.
I received the Newspaper Society's President's Award for this work in 1993.
I have been involved in the scouts throughout my life. After retiring, I became chairman of the Friends of Darwen Cemetery, Friends of Darwen Library and was elected a Darwen town councillor.
I am currently a member of Rotary Darwen, a trustee of Blackburn YMCA and I am now heavily involved as a trustee of Darwen Heritage Centre.
In a busy life, I am a church secretary, member, elder and lay preacher with the United Reform Church which I have attended since a teenager.
I may be a busy man, but I am never too busy to offer a helping hand.
Taking a 'brew' has saved many lives in Lancashire and helped many of those suffering to come out of their discomfort zone."
In 1999, I helped to set up a drop-in centre for refugees and asylum seekers in Darwen when first Iranian and later Eastern European asylum seekers came to the United Reformed Church.
This work moved to Blackburn Wesley Hall, Methodist Church and became the Asylum Refugee Community – a project which was an ecumenical initiative run by Wesley Hall and Blackburn Cathedral.
I now coordinate the Darwen Asylum Refugees Enterprise. This supports refugees and asylum seekers in Darwen by running a drop-in centre, English classes, health checks, sign-posting and trips out.
For example, we organise visits to the Yorkshire Dales to walk, to plant trees, build dry stone walls, restore quarries and hay-making.
This work has also had impact on the local community as relations have developed to provide a greater understanding of the issues over conflict areas of the world ensures.
Through this work, we have brought hundreds of people into the Dales through 'People and the Dales'.
A 'brew' is colloquially used for taking a cup of tea. It's a gesture to welcome to a stranger, a touching act that soothes awkward feelings.
I know how asylum seekers feel when they first come into the country, and are awaiting a decision from the Home Office.
Those worst affected are refused asylum seekers, marginalised and punished by the system that makes them feel worthless.
With no right to work and at the mercy of the authority, most asylum seekers go through this process which can take an average of seven years before being granted leave to remain.
When the status eventually comes the recipient is already numb, inhibited and unresponsive after waiting so long.
Taking a 'brew' has saved many lives in Lancashire and helped many of those suffering to come out of their discomfort zone. I would say that a day in the Dales is worth a week on sleeping pills and antidepressive medication.
Read more Champions Awards winners: