T

he Welsh hills were alive with the sound of music as Rotary in Great Britain and Ireland crowned the 2017 winners of the annual Young Musician competition.

14-year-old Huw Boucher, sponsored by Cardiff Breakfast Rotary Club, took home first place in the Instrumental category after he wowed the crowds with his performance of Étude de Concert by Félix Godefroid and Prélude No. 6 by Naderman on the harp.

This is just the latest of a number of awards Huw, who is a member of the Cardiff County and the Vale Youth Orchestras, has picked up in recent years, including being named the Young Instrumentalist of the Year at the Music in the Vale festival in both 2015 and 2016.

The other winner on the day was 16-year-old Eyra Norman, sponsored by Godalming Rotary Club, who scooped the top spot in the vocal category for her stunning rendition of Richard Strauss' Du meines Herzens Krönelein, Johann Strauss' Mein Herr Marquis and Benjamin Britten's Wild with Passion.

Eyra started singing at just nine years old and is currently preparing for auditions at a number of prestigious conservatoires and universities, including the Royal College of Music, the Guildhall School of Music, the Juilliard in New York and the Mozarteum in Salzburg.
---
"Rotary's youth competitions are all about recognising young talent
and stars of the future."
---
Second and third place for Instrumental were awarded to Ellis Thomas, sponsored by Colwyn Bay Rotary Club, on the piano, and Anna Crawford, sponsored by Rochester Rotary Club, on the cello, respectively.
Karen McLeod, sponsored by Gourock Rotary Club picked up second in the vocal category and Katie Marshall, sponsored by Rutland Rotary Club was awarded third.
The national final, which was sponsored by Yamaha, who donated vouchers worth £500 to the two overall winners, was held at the prestigious Royal Welsh College of Music and Drama in Cardiff where there were a number of speakers including Rotary International in Great Britain and Ireland's President Eve Conway.
This year's competition was adjudicated by Darya Brill-Williams, who was appointed as the first Musical Director to Sioergerdd/Showcase Performing Arts Youth Association; Jonathan Gulliford, Musical Director for Côr Meibion Pontypridd; Dr. Daniel Bickerton Director of Undergraduate Studies at Cardiff University School of Music; and Matthew Boad, a Cardiff Univeristy alumni and jazz pianist performer.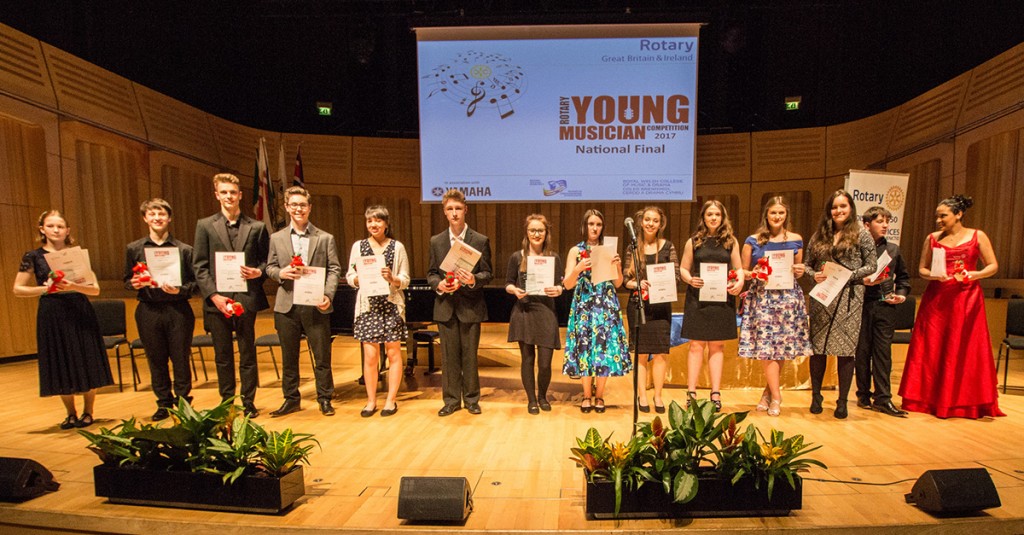 Rotary's Young Musician was created to give young people across Great Britain and Ireland the chance to develop and showcase their exceptional musical talents.
The competition is open to all amateur musicians in full time education up to the age of 17 and is one of many youth competitions organised by Rotary to build the skills of young people.
President Eve comments, "The performances by our two winners of the Rotary Young Musician Finals were exceptional, with all the finalists giving outstanding performances, making it a difficult decision for the adjudicators, who praised all who took part."
"Rotary in Britain and Ireland's youth competitions are all about encouraging and recognising young talent and stars of the future and we wish them the best in their future musical endeavours."
Find out more about Rotary Youth Competitions.
Published: Thursday 25th May 2017

Photographs © Nigel Kaszubowski