Rotary Day will be marked with a Purple4Polio Tea Party celebrating Rotary's 116th birthday.
Hosted by Purple4Polio Ambassadors, TV and radio presenter, screenwriter and children's author Konnie Huq and Anne Wafula Strike MBE, a Paralympian, author, sporting ambassador and polio survivor, this will feature an hour of songs, poetry and readings.
The webinar starts at 4pm and for more details, register here.
---
In Rotherham, there are plans to mark Rotary Day by lighting up Rotherham Minster at 6pm on Tuesday evening. The event will be low key without too much ceremony because of Covid restrictions.
Among those who will be present will be polio survivor and ambassador, John Elford Box.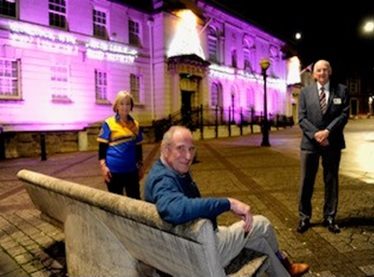 Since 1985, Rotary International has been at the heart of efforts to rid the world of polio, and in South Yorkshire, Rotherham and Rotherham Sitwell Rotary clubs have been active in marking both Rotary Day, and World Polio Day in October.
John, who is President of Rotherham Rotary, explained: "Rotherham Sitwell Rotary Club organised the lighting up of Rotherham Town Hall last October to celebrate World Polio Day.
"Due to the huge success of this event, it was decided, with the help of Rotherham Rotary, to follow this up with two more events in 2021.
"This is so that we can continue to remind all Rotarians and members of the public of Rotary's ongoing commitment to finish the job started 32 years ago when we promised to rid the world of polio."
Rotary began 116 years ago with four business people who wanted to find ways of helping those in need.
The essence of those ideals are being captured amid the COVID-19 pandemic. Many Rotarians will be marking Rotary Day engaged with volunteering at vaccination clinics, test centres, along with supporting the isolated and the vulnerable.
---
Folkestone's two Rotary club – Folkestone and Folkestone Channel, are typical of clubs who are working right at the coal face with other community groups.
They were recently named as 'Hero of the Week' by BBC Radio Kent. They have provided 300 volunteer marshals to support the town's two vaccination centres.
"Over 17,000 people have already been vaccinated and our volunteers are thoroughly enjoying the opportunity to help with this enormously valuable community project," said Duncan Hopkin from Folkestone Channel Rotary.
Malcolm Stewart, President of Channel Rotary, added: "This has been a challenging year in which Channel Rotary has had to change its ways of working and communicating to continue its mission and we have remained fully active throughout this difficult period.
"Our involvement with the Folkestone vaccination centres is Rotary at its very best – working in, with and for our community."
---
In Essex, Chelmsford Rivermead Rotary has produced an online boo of commemoration recognising the work of keyworkers in serving their community.
"I do not believe that any of us foresaw the devastating effect on our country or that the pandemic would wane and then emerge stronger than ever," said Rotarian Graham Hart.
"We have produced an online book of commemoration which can be seen here, and which can be signed here.
I do not believe that any of us foresaw the devastating effect on our country or that the pandemic would wane and then emerge stronger than ever,"
"We would encourage people to sign the guestbook to show their gratitude for the efforts of all NHS staff and countrywide keyworkers."
Earlier this year, the Chelmsford Rivermead Rotarians commissioned the production of a special stained glass window to celebrate the efforts of the NHS and keyworkers.
This has been installed at The Hive Café at Chelmsford City Museum. It was designed by Brian Jeapes, the husband of Rivermead Rotarian, Julia.
---
Up the A12 in Essex, Colchester Rotary has planted thousands of purple crocuses in Castle Park to mark Rotary's commitment to end polio. These should very soon be blooming.
Several local primary schools have also planted displays of purple crocuses.