Following last year's award of the Rotary in Great Britain & Ireland's Len Smith Vocational Cup, the Welsh Rotarians have this year captured the Community Cup for their work over many years in establishing and maintaining the gardens at Wrexham's Maelor Hospital.
Their first venture was in 2004 at the time of the club's 25th anniversary when, after five years of fund-raising, the hospital's Shooting Star Unit was established for cancer patients.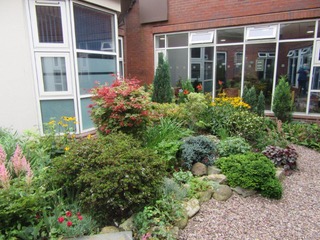 Club member Alun Morgan was one of the founding trustees of the Shooting Star appeal and alerted the club to the possibility of securing a courtyard at the unit.
With approval granted, fellow members Bryn Harrison and the late Chris Jones set about planning and creating a garden which would help to create a tranquil and relaxing atmosphere for patients and visitors.
Local rt and design students contributed their expertise and a specially-commissioned water feature took centre stage.
Windows around the courtyard allow patients who are awaiting treatment to enjoy the greenery and sound of running water. Many have commented how relaxing the view has been.
Always a hands-on project, the garden was built from scratch.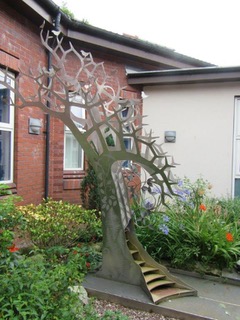 Bryn Harrison recalls one occasion fetching large stones collected from a nearby mountain. "We had to wheel a few barrowloads of them through the waiting-room of the A&E department!" he recalled.
Since those early times, the club has adopted and developed two other gardens at the hospital.
Another courtyard became the 'Conifer Garden', completed in 2005, to coincide with the centenary of Rotary International.
Five years later, a riverbank area alongside the newly-established MacMillan Information Centre became the 'Seren Garden'. This created a peaceful setting for those whose lives have been touched by cancer.
A small group of dedicated members regularly spend time tending the gardens.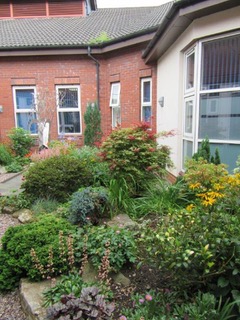 "The response we get from the public is amazing, and will always bring us back to continue the work," said John Isherwood, who has led the team for many years.
Demand for cancer treatment at the hospital is such that the Shooting Star Appeal continues, supporting the replacement and enhancement of equipment as well as facing the probability of the need for a doubling of capacity at the unit.
Work on the gardens has continued during the present difficult times at the hospital, testimony to the determination of the members.
The Community Cup is tangible evidence of the club's continuing commitment and service to the community.