Douglas has campaigned for people with life limiting health conditions and raises funds to help those who are living with conditions to live well, all whilst playing a key role within e-club South West Peninsula Rotary Club.
In his nomination, then District Governor (1175, which is Rotary in the South West Peninsula) William Wills writes: "We cannot think of anyone more worthy for this award. Douglas would not expect to be nominated due to his humble nature." 
---
Listen to this article

---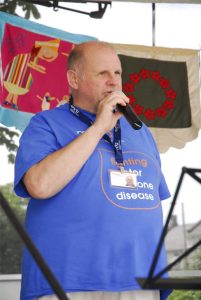 And yet the Rotarian from Ham, near Plymouth, is a whirlwind within his community, engaged with a number of projects and he campaigns for those with life-limiting conditions.
In 2018, supported by his wife Annemarie, Douglas led the team to set up the Plymouth Group of the Motor Neurone Disease (MND) Association. 
His efforts ensured that Plymouth City Council adopted the MND Charter in October 2018, to help 'influence positively the quality of life for people with MND and their carers in the community'. 
Douglas overcame his own health issues to organise events and activities to fund-raise for the charity – from cake sales to a dinner dance. 
He also gained the support of Plymouth Argyle Football Club through the Argyle Community Trust. 
This initiative has gained considerable political support, notably a campaign to widen the message of 'scrap6months' – a pledge to ensure that people who are terminally ill can access welfare benefits quickly and sensitively. 
Douglas set up the MND group, along with the help of Annemarie and the association's area co-ordinator, because he felt an affinity since he has been living with a life-limiting condition. 
One of Douglas's achievements through campaigning was to assist a young patient getting moved to suitable ground floor accommodation after a gruelling two-hour meeting with the local housing authority. 
Douglas has been on kidney dialysis for nine hours each night for a considerable period of time and was in need of a kidney transplant. He never complains and, on March 24th this year, he received a kidney transplant. 
After joining Rotary, Douglas became a Community Ambassador for Kidney Research UK. He is a volunteer raising the profile of the organisation across the south-west.
Throughout the pandemic, Douglas has used his social media skills to create an online following which has brought kidney disease to the forefront of people's thinking.
Douglas has used his experience to help others, creating resources, which were not there before. 
During March, and before the transplant, Douglas overcame his limitations by walking at least 8,500 steps a day for a full month in aid of Kidney Research UK. 
While waiting for the transplant, Douglas had to overcome lethargy, weakness, shortness of breath, congestive heart failure and many other associated factors in order to help raise funds to help other people who are living with the same condition. 
"Kidney disease ruins and destroys lives," he said. 
Douglas joined the e-Club on the day it chartered and plays an integral part in the club where he is the lead for the Twitter social media. On a daily basis, he interacts with organisations, volunteers and the public to promote the work of the club. 
As a Rotarian, he has contributed ideas of how the club can get involved with activities locally.