It is a registered Savings and Credit Cooperative run by 14 experienced and committed solar entrepreneurs. 
Lendwithcare's partner, SunnyMoney Malawi, has worked with entrepreneurs to build a network of super agents who help provide access to solar lights across the country.
The super agents are successful entrepreneurs, but they have identified that access to finance is the biggest challenge to maximising their sales, reaching their potential as businesses and increasing energy access across Malawi.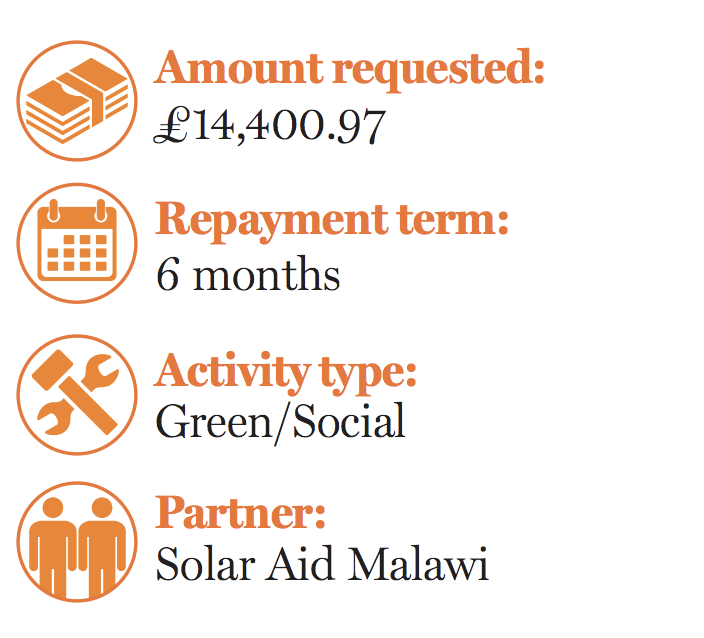 Each entrepreneur within FEBCO has contributed 40% of their own capital into a fund. They use this loan from Lendwithcare to top up this loan fund. Members boost their businesses by purchasing a variety of solar light stock and covering essential business expenses such as mobile airtime and travel costs to expand their customer base.
Nancy Chaima, or 'Aunty Nancy' as she is known, is SunnyMoney Malawi's super agent for Nsanje. 
Nancy has established herself as the person selling solar lights in her area. She will use her portion of this loan to open a solar shop and buy a good level of stock for the shop. 
---
Listen to this article
---
Nsanje is Malawi's poorest district and was recently ravaged by floods. It is in the most southern district of Malawi and borders Mozambique. Nancy has been a SunnyMoney entrepreneur for over five years. Before she became a SunnyMoney agent, she was a rice and bean farmer.
Nancy is now at the point where her business needs to expand. A loan through the new savings and credit cooperative (SACCO), will provide her with the capital to build a shop and hold more stock for her business so she can serve the significant demand in Nsanje.
She will use her portion of this loan to buy phone-charging solar lights at $31 each. She plans to sell solar lights to 60 teachers across 20 schools, making a net profit of $450 which she will reinvest into the business.
The next step for Nancy is to hire area agents in Nsanje from the commission she makes. This will mean Nancy is able to create a workforce of people travelling around the whole district to provide light to communities.
Nancy will then open her SunnyMoney shop. This will provide a hub for anyone's energy needs in the surrounding areas. This will take us some way to lighting up the whole district and Nancy's business.