When Storm Desmond wreaked havoc in north-west England in December 2015, Rotary was there to help.
Towns in Cumbria experienced their worst floods ever. The Rotary International in Great Britain and Ireland Disaster Recovery Trust stepped in to ensure that two community buildings – the 1st Kendal Scout HQ and the Kendal Deaf Centre – were rebuilt.
Money was raised through the combined efforts of Rotary clubs in Kendal, Kendal South Westmorland, and those around the country, as far afield as Chichester and Hemel Hempstead.
---
Listen to this article
---
However, owing to shortfalls due to insurance cover, additional help was needed. The Rotary International in Great Britain and Ireland Disaster Recovery Trust was approached to bridge the gap in funding. This allowed for repairs to the buildings to be completed.
According to Chairman, Brian Stoyel, this is very typical of the unheralded work of the Trust. Established in 2007, it collates donations and awards grants to Rotary projects which rebuild communities.
"Rotary knows that helping rebuild communities in the long-term is just as important as responding to the immediate aftermath of disasters," he said.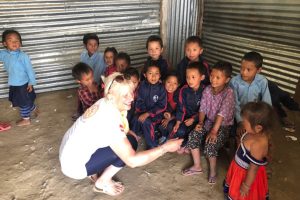 "So, in addition to Rotary supporting communities in the immediate days and weeks after a disaster, Rotary can use the Trust's fund to help in the long-term rebuilding of sustainable community projects, both home and abroad."
Brian pointed out how in recent years, the Disaster Recovery Trust has collated funds for earthquakes in Italy, New Zealand, Nepal and Haiti, flooding in the UK, Ireland and Pakistan, as well as hurricanes in the Caribbean.
In 2019, the Trust responded in the Bahamas following Tropical Hurricane Dorian, helping to rebuild the country, particularly schools and local businesses.
And in Nepal, the Trust helped rebuild a school in Laangarche, Sindhupalchok in 2017 following the devastating earthquake two years earlier.
Compared to Global Grants awarded by The Rotary Foundation, the scale of grants given by the Trust is much smaller. However, they are looking for community projects to support. There are adequate funds available to help rebuild communities which have experienced flood disaster in the UK. Brian added: "With the money in the UK fund, I have appealed to District Governors asking them how we can spend it. Perhaps it is a lack of understanding."
To be considered for a grant from the Rotary International in Great Britain and Ireland Disaster Recovery Trust, projects must:
• Address a community need, with the aim of providing sustainable development.
• Demonstrate a benefit to the community as a whole, and not an individual person.
• Have significant Rotary involvement and visible Rotary identification.
• Rotarians must be actively involved and take responsibility in each grant project, and regularly report on the status of the project.
To find out more about the Disaster Recovery Trust, contact Brian Stoyel.