The Champions Awards recognise individual heroes for projects at home or overseas.
Here, this year's Champions write in their own words, about what their project means to them, what it entailed and how it has made a difference.

Author: Jan Lewis
Ty-Golau, which means House of Light, is a group for people with slight memory problems, Alzheimer's and dementia-type illnesses.
It was initiated 10 years ago, following my early retirement, when I became aware of the lack of services for people with dementia and their carers.
With my background as an occupational therapist, I wondered if there was anything I could do to address this, but I was unsure how to proceed.
I began by preparing different topics for discussion such as school days, the war years, games we played as children, saints' days and much more.
Each session included reality orientation, reminiscences, themed quizzes and sing-a-longs.
It was accompanied by PowerPoint presentations to reinforce the spoken word, while volunteers were dressed in costumes of the era or subject being discussed.
Numbers soon grew as word of the group spread, and we were able to set up another group in a rural area."
Initially, local care homes were contacted and Ty-Golau began in a small way in a church hall in Carmarthenshire, Wales.
Numbers soon grew as word of the group spread, and we were able to set up another group in a rural area.
We currently run three groups a week, with different service users attending each session.
People are attending from care homes, as well as those who are living either independently within the community or with family and carers.
On average, we see 55 service users and 26 carers a week. We receive new referrals on a regular basis and we have 19 very dedicated volunteers, without whom Ty-Golau could not continue.
Ty-Golau is not a social group, although socialisation naturally takes place within the group.
However, each session is specifically planned to provide cognitive stimulation and specialist care, which is presented in a non-threatening and fun way.
Some comments we have received from service users and carers include: "I don't get up early, there's nothing to get up for, but on Ty-Golau day, I'm raring to go", or "Thank you for giving me back my memories", or "I enjoy coming along as much as my mother. I really must stop shouting out the answers though, I get so excited!"
Hearing comments such as these, and knowing how we are touching people's lives, even for a few hours a week, makes all the effort worthwhile. To see smiling faces, to hear the laughter within the sessions, gives us great satisfaction and it is the highlight of our week.
We have received many awards for the work at Ty-Golau, the highlights being an invitation to a Buckingham Palace garden party and receiving Rotary's 'Champion of Change' award at the National Assembly for Wales, in Cardiff last year.
I am currently in discussions with Carmarthenshire County Council regarding training their staff so that we might set up satellite groups around Carmarthenshire, and possibly beyond. This is an indication of how highly Ty-Golau is regarded, and we have great expectations for the future.
We have received wonderful encouragement, support and donations from members of Pembrey & Burry Port Rotary Club, as well as Llanelli Rotary, and we are so grateful for all they do for us.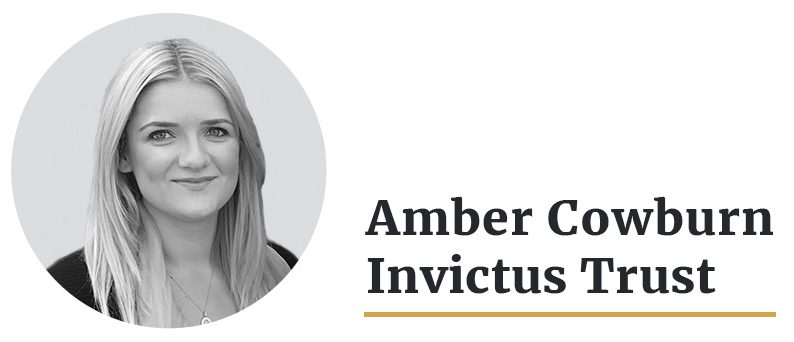 Author: Amber Cowburn
My family and I set up the Invictus Trust, in memory of my amazing brother Ben, after he took his own life in 2010.
It was a tragedy which tore our lives apart, and my family decided to set about to raise awareness of mental health issues in young people – at the time, something that was not being talked about.
We set up the Invictus Trust with little idea of where it would go, but with the overwhelming determination to raise awareness of mental health and mental illness in young people in Cornwall.
We began to film short videos, visit schools, give talks, and create a website with sources of reliable help all in one place.
As a family, we were also devastated by the care Ben had received from the NHS Mental Health Unit that he was sectioned into, and where he ended his life.
We struggled to hear about the failures of care, but more widely how this unit just did not suit or support him.
As a family, we were also devastated by the care Ben had received from the NHS Mental Health Unit that he was sectioned into, and where he ended his life."
Ben was just 18-years-old, which made him an adult based on NHS thresholds.
He was placed in a mental health hospital providing long-term care for adults into their seventies.
We knew, as a grieving family, that more had to be done to support young people struggling with mental illness.
The care had to get better. Once we began raising our voices on this subject, many parents and young people came forward telling us they felt the same – that an adult mental health hospital is not the right place for an 18-year-old.
We strongly felt there should be care that went from 13-25 years, marking the period of adolescence, rather than the arbitrary divide of child and adult.
I began to look into adolescent mental health, and became a strong advocate of this age range as being a unique time for social, emotional, and brain development.
However, other parents came forward to – and it quickly became clear that the situation of mental health care in Cornwall was even more poorly resourced for under-18s.
There was not a mental health facility for under-18s in Cornwall, so children as young as 12 were being sent to mental health beds around England.
This was a barbaric way to treat a vulnerable, scared young person. It also hampered their recovery, and left them isolated from family who often could not afford or were not able to visit regularly.
As a charity, we launched the Anchor Fund to offer travel grants to parents to assist them with travel costs when visiting their child. At any one time, between 12 and 15 young people from Cornwall are being cared for in mental health hospitals outside the county.
Aside from the emotional cost, this was also costing our local services a huge amount of money as they had to 'rent' the beds from other health partnerships at a night-by-night fee.
I worked with a filmmaker to make a campaign called 'Bring Back our Children' and several families who had received Anchor Fund grants were bravely interviewed. It got an immediate response and was met with outrage by the Cornish public at this lack of services.
I launched a campaign with the local newspaper, and we lobbied with NHS commissioners for an under-18 mental health unit to be built in Cornwall.
And now, in August 2019, a brand new mental health unit is due to open. We are so proud that we truly will be 'bringing back our children' to Cornwall, and that the first beds will be filled by young people being repatriated from across the country.
We know the mental health of the brain does not stop developing until 25. We would like to see these young adults cared for in an environment that understands them, helping them back onto the course of a healthy life.
Read more Champions Awards winners: