R

otary Young Citizen Peacemaker Award

A group of Irish pupils, aged 15 and 16, who are peace advocates at Coláiste Mhuire Buttevant School in County Cork, have scooped the first-ever Rotary Young Citizen Peacemaker Award for their inspirational work tackling difficulties affecting fellow students.

The Peace Advocates surveyed all pupils in their school to find out what they were concerned about and discovered issues where they needed support. The issues included online safety, phone and gaming overuse leading to sleep deprivation, anxiety, low self-esteem and depression.

The Peace Advocacy Group raised the survey's results with the school principal who organised workshops with a forensic psychologist carrying out sessions with students and also parents.

The group is now in the process of training all second year students and their teachers with the aim to have all students in the school trained to be fully qualified Peace Advocates by 2020.

They are also organising a Pride Day at the school where pupils can celebrate their diversity, taking pride in their uniqueness, diverse cultures, sporting communities, etc.

Mallow Rotary Club was so impressed with the work of the Peace Advocacy Group that it put them forward for the Rotary Young Citizen Peacemaker Award.

The new award reflects Rotary's area of focus on Peace and Conflict Prevention/Resolution. The Peace Advocates say they are delighted to be the first recipients of this new award.
Winning this award has been a lovely acknowledgement of our efforts and commitment to the Peace Programme."
In a statement, the group said: "It is an honour for all 157 Peace Advocates in Coláiste Mhuire to be nominated by Rotary as the first recipients of the new Rotary Young Citizen Peacemaker Award 2019.
"Our Peace Programme, founded by Jean Best, focuses on one's quality of life, in our communities, our homes, our schools and in ourselves.
"We use the skills of purposeful listening and collaborative conversation to recognise, enable and empower our fellow students and ourselves to believe in the expertise of the young to help each other and resolve conflict.
"Winning this award has been a lovely acknowledgement of our efforts and commitment to the Peace Programme."
"We want our school to be a place where everybody is respected and our diversity is celebrated so that our uniqueness is normal."
Coláiste Mhuire in Buttevant is to receive the 2019 @RotaryGBI Young Citizen Peacemaker Award. Zoe and Aoibhe came into the studio to tell us more. pic.twitter.com/bI9ZF2OTHH

— RTÉ news2day (@news2dayRTE) April 9, 2019
Rotary in Great Britain and Ireland President Debbie Hodge said: "The Peace Advocates are a real inspiration to us all with the important work they are carrying out, which they have initiated themselves, to help other students at their school deal with their concerns."
Five Peace Advocates travelled to the Rotary in Great Britain and Ireland Showcase in Nottingham last month to receive a trophy and £500 to go towards their chosen project or good cause from BBC TV Presenter Ellie Crisell. They were David Higgins, Paul O'Keeffe, Eoin O'Brien, Zoe Crowley and Aoibhe Jones.
The Peace Advocates were trained by Rotarians Keith and Jean Best, who run The Peace Project, supported by Rotary in Great Britain and Ireland, and launched in schools in Scotland.
---

Rotary Young Citizen WheelPower Sports Award
Anastasia Blease – 14
Nominated by Flint & Holywell Rotary
Wheelchair basketball player Anastasia from Carmel, near Holywell in Wales, was born with spina bifi da. She is fast becoming a sporting hero after returning home with a gold medal from the European Championships in France with Team GB's Junior Women under-24s.
She is the youngest player currently selected for the squad and only began playing six years ago aged eight.
Anastasia has played for Wales' under-15s team every year since she was nine, winning silver as Vice-Captain for the last two years in the Lord's Taverners Junior Championships. The schoolgirl, who plays for North Wales Knights, is hoping to one day represent Great Britain in the Paralympics.
She says: "I want to be an inspiration to younger people and I like to show them that they can achieve anything they want."
The Rotary Young Citizen WheelPower Sports Award is jointly sponsored by Rotary International in Great Britain & Ireland and the UK wheelchair sports charity, WheelPower.
---
Rotary Young Citizen Award

Kira Noble – 15
Nominated by Leith Rotary
Nicknamed 'Kira the Machine', the Edinburgh schoolgirl has courageously faced the rare and aggressive cancer neuroblastoma since she was 11-years-old.
She has now been told that her cancer is incurable.
After doctors failed to initially recognise she had the condition, Kira has campaigned for more awareness and training of medical professionals to save lives. She launched a Childhood Cancer campaign and joined forces with an Edinburgh mum whose son died of leukaemia.
Despite 20 rounds of chemotherapy, conventional radiotherapy and additional Proton Beam Therapy (PBT) to her abdominal area and four major abdominal surgeries, Kira's cancer has returned three times.
Whilst in hospital, she offers support to other cancer sufferers and their families, as well as raising awareness of her condition through social media.
Scans in January 2019 revealed that Kira's cancer has continued to grow and progress further despite PBT in the US.
Kira herself has taken the decision to try an experimental drug which is an ALK inhibitor.
Reacting to the news, she said: "I don't like being negative because it isn't going to get me anywhere."
Earlier I spoke to inspirational @RotaryGBI award winner Kira Noble, who told us her extraordinary story. Kira has faced the rare and aggressive cancer Neuroblastoma since she was just eleven-years-old. #AfternoonLive #RotaryYoungCitizen #PeopleOfAction pic.twitter.com/RntCyVf435

— Simon McCoy (@BBCSimonMcCoy) May 9, 2019
---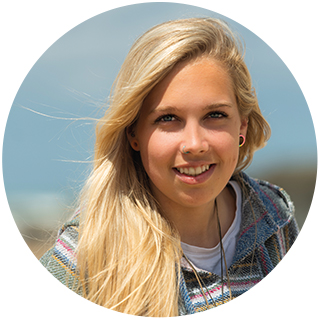 Emily Stevenson – 21
Nominated by Rotary in the SW Peninsula (Devon, Cornwall and Isles of Scilly)
'Plastics Warrior' Emily Stevenson is being recognised for her mission to end single-use plastic.
Emily, who grew up and lives on the north coast of Cornwall, has been picking up plastic from beaches for over half her life
She set up the Beach Guardian project in Cornwall and has also worked with Nissan as part of her beach cleaning campaign.
The former marine biology student from Trevone Bay wants to stop plastic from ending up on beaches worldwide.
She has received a letter of thanks from Sir David Attenborough.
Emily attracted international media attention when she wore a dress made from discarded Walkers crisp packets to her graduation ceremony at Plymouth
University. Since then, Walkers has pledged that by 2025 they will make all packaging 100% recyclable, compostable or biodegradable.
After spending time with Emily and the Beach Guardian project in 2018, Nissan now give all their employees worldwide two days of volunteering time each year, as well as offering support to beach cleaning groups worldwide and increasing the recycled plastic content in their vehicles.
They also developed a two-minute film about Beach Guardian's work.
Emily said: "I am so proud of the work I have done so far, but it is absolutely only just the beginning. With this recognition from Rotary, it only empowers me to work harder for longer to protect the environment against the plight of plastic."
---
Alana Habergham-Rice – 11
Nominated by Rotherham Rotary
Alana from Rotherham is driven by a passion for what is fair and a desire to help people who she believes aren't as fortunate as her. This is against a backdrop of personal struggle since she is on the pathway for an Autism Spectrum Disorder assessment.
When Alana was six, she decided she wanted to do something for charity, so she set up her first charity cake stall, which has now become an annual event.
She raises money for a girl at her school with cerebral palsy, helping to fund her therapy and specialist equipment, plus supporting the Sheffield Hospitals Charity, as well as other charities.
In 2017, Alana's Caring Cakes were born. Alana's Caring Cakes are free of charge and anybody can nominate someone to receive one of Alana's special cakes.
Key is surprising the individual who has been nominated.
Alana has delivered to people in care homes, those undergoing chemotherapy, hospice staff who had cared for somebody who had recently died, people caring for family members with a terminal illness and those who go the extra mile for special friends.
Alana views what she does as being nothing special as she feels everybody should do nice things for people.
She said: "It just makes me really happy that I can do something to make their time when it's tough, better!"
---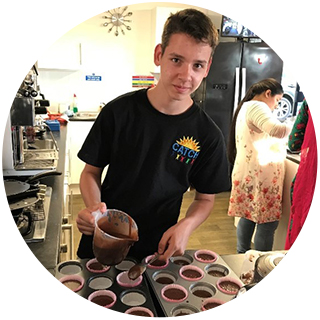 George Husar – 15
Nominated by Roundhay Rotary
George had a bad start to life. He was excluded from school and in negative social peer groups. But he has now turned his life around after being referred last year to CATCH, a volunteer-led charity in Leeds.
He has taken on a leadership role supporting other young volunteers, becoming a strong team leader at youth club sessions and other activities. George was asked to become an official CATCH Volunteer Activity Assistant.
He recorded the highest hours as a young volunteer and was crowned CATCH Volunteer Assistant of the Year 2018.
George carried out outreach work to attract more young people off the streets into CATCH and encourages other youngsters to register, particularly those who are harder to engage with.
He said: "I am thrilled to receive this award. It will improve my confidence, looking to the future and it will help me to inspire other young people who may be struggling with their life choices."
---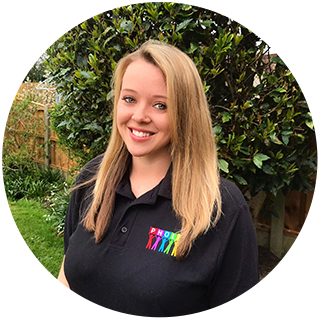 Sophie Alderton – 22
Nominated by Thorpe Bay Rotary, Essex
Sophie has been involved in charity work since she was aged 13. She was bullied at secondary school because she had a sister with special needs, and that focused her on wanting to make a difference for those less fortunate. She started off by volunteering for Southend Junior PHAB Club, a charity helping children with disabilities.
At 17, she was asked to take over another club in Southend called PHOLK, to get a group of young adults with disabilities out into the community.
Sophie soon realised that not only were there not enough things for people with disabilities to do, but also there wasn't enough equality in our community.
She now runs PHOLK, having made it into a registered charity, bringing those with and without disabilities together on equal terms.
As PHOLK relies solely on donations to keep it running, Sophie organises at least three fundraising events annually, including a triathlon and a 75-mile bike ride.
---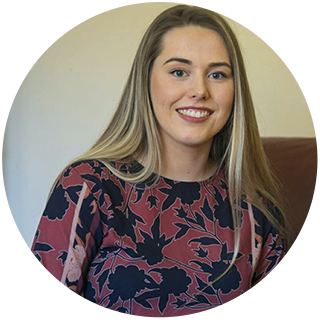 Charlotte Keane – 24
Nominated by Clonmel Rotary, Ireland
Charlotte Keane who was head girl at school, was put forward for the award by school friend Emma Lacey as "an inspiration to all that come in contact with her".
Emma says Charlotte has been a loyal best friend, standing by her since the age of 17 when her life dramatically changed after an emergency back operation.
This marked the start of a neverending ordeal due to two spinal diseases and a brain condition leaving her disabled and bed-ridden.
Charlotte helped set up the Emma Lacey Trust to raise funds to provide an accessible downstairs extension for Emma and to cover future medical costs and continues to give her constant support.
Emma said: "Charlotte doesn't care how sick I am, she always adapts to every situation with incredible compassion and maturity. Life can be lonely being confined to bed, but Charlotte always manages to bring the light of the outside world to me with her friendship."
Clonmel Rotary were so impressed by the strong recommendation from Emma, made from her hospital bed, that they had no hesitation in nominating Charlotte for the award.