ShelterBox helps Grenfell Tower therapy group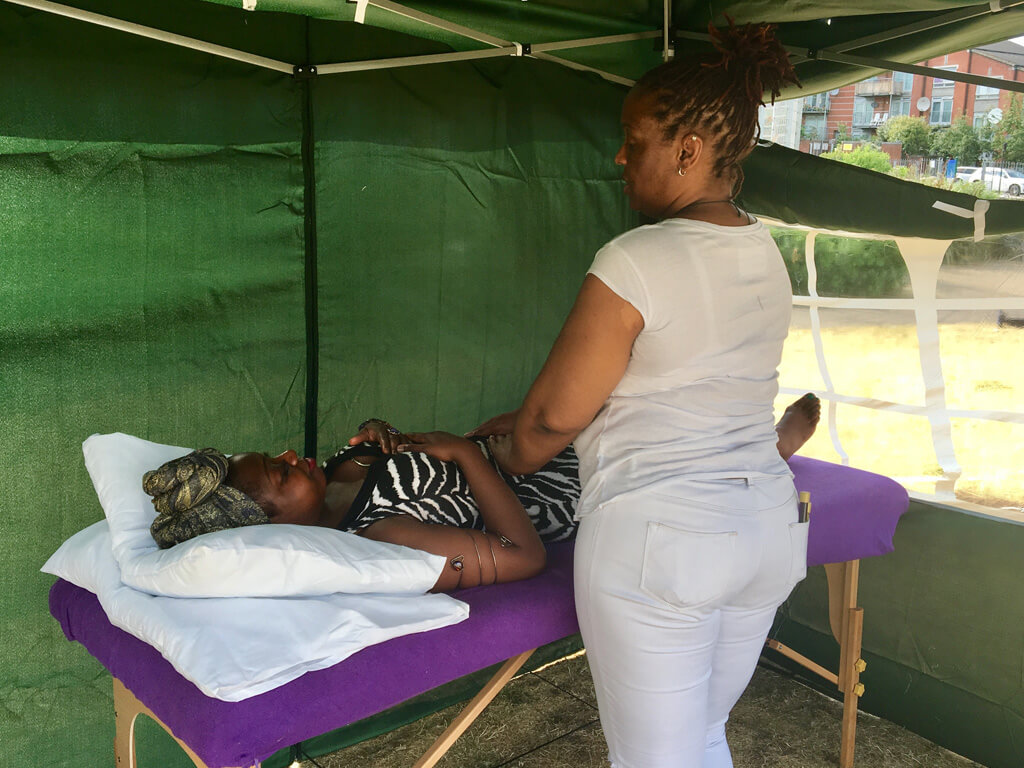 Rotary project partner ShelterBox has responded to a request from a therapy group helping young people and adults traumatised by the Grenfell Tower fire.
It has provided all-weather cover for a range of outdoor activities and counselling sessions designed to help this damaged community recover.
Kids on the Green is a collective of trained therapists who have set up a calm space for local children, teens and families affected by the Grenfell fire.
Supported entirely by local businesses and community donations, all the facilities are provided free, including food and drink, arts and crafts, games, children's entertainment and alternative therapies, including massage.
ShelterBox supporter Juliet Emerson asked whether the Cornish charity could help Kids on the Green with some tents or gazebos, as all their activities are out in the open at Norland Open Space, near the Edward Woods Community Centre and estate.
They also have to set up their activities every morning, and pack away every night.
Juliet commented, "We are working with an amazing team of helpers who are giving up so much time to help make this work a reality for as long as it is needed. The organizer Zoe Le Veque is amazing; dynamic and clear headed and with other wonderful people is making Norland Open Space a place for children and adults to come and play and paint, talk and grieve, eat pizza and spin hula hoops."
---
"Providing shelter for people who've suffered disaster is exactly
what we do, and it is rare we are called to respond
in our own country."
---
"The little children seem fine on the surface but you only have to look at their pictures to see their distress – they use many colours, but black predominates. Adolescents are more direct but subdued."
Georgia Langley of the Kids on the Green team said after ShelterBox's tents arrived, "These look absolutely fantastic. Thank you so very much for such a kind and generous donation."
"We are almost entirely reliant on donations and volunteers and this will make a real difference to our set up and pack away procedures, as well as the overall running of the project."
ShelterBox started out life as a Rotary club project and has grown to support families across the world with shelter and emergency disaster relief.
ShelterBox Chief Executive Chris Warham didn't hesitate in approving the request from Kids on the Green.
"Providing shelter for people who've suffered a disaster is exactly what we do, and it is rare we are called to respond in our own country. The Grenfell Tower fire is a tragedy with worldwide repercussions."
"But our response was mostly in recognition of this admirable community project, and a wish to put smiles back on the faces of local children and their families."
"We know from our work in disaster and conflict zones that families affected by disaster need so much more than simple shelter so it's great to see this group of therapists offering their professional services free."
To find out more about Rotary's support for the Grenfell Tower, check out the upcoming August-September edition of Rotary magazine.
Published: Thursday 20th July 2017