Richard Henry Gullett was a member of Finsbury Rotary in central London around the 1950s.
And his granddaughter, Samantha Bothe, is hoping Rotarians might help her to discover more information – particularly about the medals he was wearing.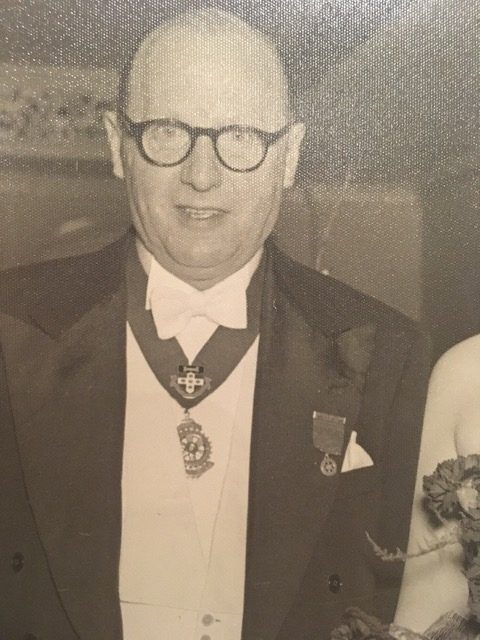 "I found this photo of my grandfather wearing Rotary medals around the 1950s," said Samantha.
"He was a member of the Finsbury club in London. Can anyone help me to identify the medals?"
Richard Gullett was a member of Finsbury Rotary in London. He has his own business – Grafton Paper Manufacturing in Brentford and Grafton Heater Manufacturing near Birmingham.
Richard lived in Weybridge, Surrey, and later Thames Ditton and Guildford.
According to Samantha, her grandfather was born in Hackney in 1893 and died in 1967. His wife Phyllis was apparently once a President of Inner Wheel with the Finsbury club.
Richard saw service during World War One. His first wife was Marguerite, by whom he had three children. After her death in 1935, Richard married again to Phyllis and had another three children. "His youngest child is Roger, who is my father," explained Samantha.
"The club was the Rotary Club of Finsbury. I have been told by my father that Richard held senior positions in the Rotary club and that Phyllis was president of the Inner Wheel.
"The photograph shows Richard and Phyllis, and Richard wearing his Rotary medals. But I do not know what they were for and would greatly appreciate it if someone is able to help in identifying them. I think the photo was taken in the 1950s.
"The closest medal to the one on the lapel in the photo I've found online is a president/past-president one. I have not been able to find anything close to the medals on the ribbon.
"I understand that the Finsbury club no longer exists and was one of several clubs which merged to become the Rotary Club of Tower Hamlets.
"Hopefully there is someone who might be able to provide further information about my grandfather's contribution to Rotary and what the medals represent. My hope is to be able to share this with my father."
If you can help, Samantha can be contacted at: sbothe@iinet.net.au