For those of you who take note of these things the November Diary didn't appear, so I have combined November and December into one posting.
November was the month to celebrate Rotarian Stanley Leverton.
In 1930 Stanley Leverton was Chairman of what is now known as Rotary in London, President of Rotary in Great Britain and Ireland and a Director of Rotary International, he observed that some Rotary clubs had boundary control of membership in large towns that was simply too large, so it was decided to encourage the formation of new clubs in these areas.
In 1939 this was formally agreed, and the legacy lives on in the number of clubs that seek to serve in local communities in large conurbations as in London and Birmingham. And it was at the Rotary clubs of London and Birmingham that celebration lunches were held.
On Friday 9th November St Albans Rotary Club celebrated 90 years of service in their local community. It was a wonderful evening, informally formal and well attended with visitors from various clubs in the area. Thank you, President Andrew Lovett for a wonderful evening.
The next day I was in Romsey for a District Council meeting – great to catch up with Rotarian friends made at the Conference in Jersey. I was able to share my reflection on Waging Peace that I had given at the Bradford Peace Conference.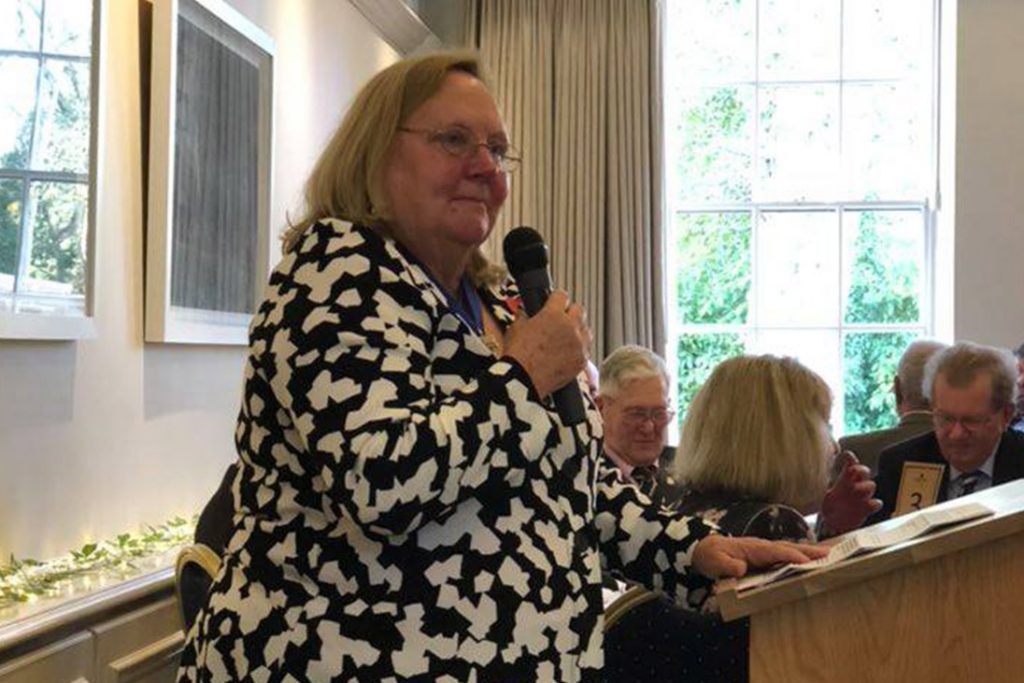 The usual round of work and family have added to a full diary. As has my work at WheelPower where I was re-elected as a Trustee at the AGM on November 17th.
Being part of the 'Be the Inspiration' event at Stratford-upon-Avon was fantastic – I have read people comment that it was one of the best Rotary events they have been to!
Excellent speakers and truly inspirational words from Rotary International President Barry Rassin. We got the branding right and ate purple ice cream!
November ended on a sad note as on 30th I led the funeral service for my mother-in-law in Macclesfield. She had been diagnosed with vascular dementia about 20 years ago and her illness has been a motivating factor in the promotion of memory café and dementia clubs by my husband Michael during his time as District Governor of Rotary in London.
December started off with various administration meetings and then the meeting of the Council of Past Presidents. It was interesting to hear the debate on the issues facing Rotary today from those who had led the organisation in the past.
There was acknowledgement that communication, while still an issue, is the one area that has changed beyond all recognition, and that this is a driving factor in the Rotary of the future.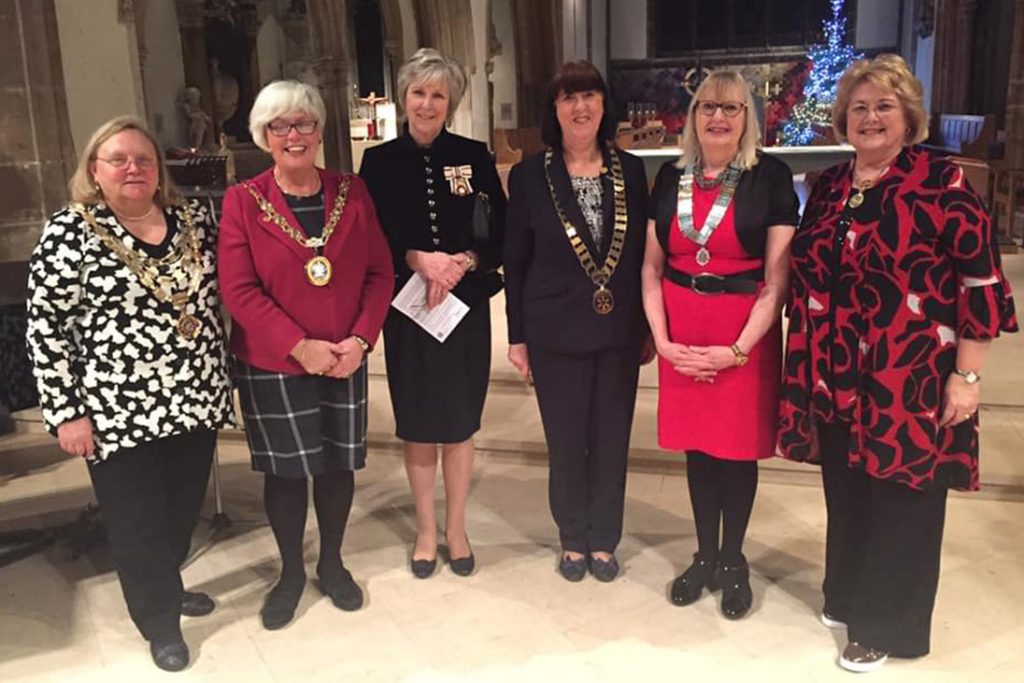 In looking to the future of Rotary in Great Britain and Ireland, a group of District Governors look at lessons learned and local actions to be developed as we continue to grow and build Rotary across the country.
There have been carol concerts and services in the run up to Christmas. Chelmsford Cathedral hosted a joint concert for Rotary and Inner Wheel.
The music was beautiful, the setting delightful and the senior leadership from Inner Wheel, Rotary and civic authorities were all women!
It was then on to St Olave's Church in the City of London to share in the annual carol service with Rotarians in London.
St Olave's is one of the few surviving medieval buildings in London and the burial place of Samuel Pepys.
With many links to historic city organisations, this little church is sought after as a place of spiritual encounter and refreshment. During the service gifts were received for the children's wards at Northwick Park Hospital.
The third carol service was at the Chapel at Haileybury College – a return to home as it was organised by the five clubs based in Ware, Hertford and Hoddesdon. It was a lovely evening and good to be back with long time Rotary friends!
These wonderful events framed another sad time, as my sister died in early December and we had her funeral on December 19th.
Every club member plays their part from wrapping presents, peeling carrots, laying tables…"
My last event of the year was to cook Christmas lunch on Christmas day for 60 elderly people who would otherwise have been home alone.
Barnet Rotary Club have been organising this event for over 40 years, and every club member plays their part from wrapping presents, peeling carrots, laying tables, driving the guests, serving lunch and clearing up at the end of the day.
I work in the kitchen with other volunteers, everything is prepared from scratch and the guests are treated not only to lunch, but entertainment, sherry before lunch and all go home with a gift.
It is a lovely way to spend part of Christmas Day before joining the family for presents and prosecco!
As the year ends and a new chapter begins I thought I would share a little of what I have learnt in the first six months of the Rotary year.
I have seen Rotarians giving generously of their time, talents and treasures.
I have seen Rotarians deeply connected to their communities, but I have also met Rotarians who are faithful at meetings but have yet to become engaged with what Rotary is doing and so have not made the transition from club member to Rotarian.
As the year ends and a new chapter begins…"
My first lesson is the need to inspire by action so that all connected with Rotary have the opportunity to become Rotarians.
The second lesson is that we need to strengthen leadership of Rotary from club level, to sistrict and then at national level and international level.
And the third lesson – to take pleasure in the small things in life – the sunrise as I travel once more to Alcester for a meeting, the quiet conversation with a Rotarian about their latest project, the welcome home glass of wine, and the thank you uttered by 94-year-old Edith as she gathers her gift and is transported home after Christmas lunch.