Events were held around the country, including the lighting up of Rotherham Minster as part of an event organised by the Rotary clubs of Rotherham and Rotherham Sitwell in South Yorkshire.
To celebrate the 116th birthday of Rotary International, The Island and Royal Manor of Portland Rotary Club, along with Weymouth's Melcombe Regis Rotary, sponsored a week-long illumination of Weymouth's seafront Pavilion Theatre.
The clubs designated the brand colours of Rotary International, resulting in a glitzy and ever-changing blue and gold light spectacle.
President Elizabeth Hardy from The Island and Royal Manor of Portland Rotary, said that the Rotary light display was aimed at supporting Weymouth's Pavilion Theatre during lockdown and promoting the work of Rotary in Portland and Weymouth.
She added: "In October, an all-purple light show is planned for the theatre to promote World Polio Day.
The Rotary light display was aimed at supporting Weymouth's Pavilion Theatre during lockdown and promoting the work of Rotary in Portland and Weymouth."
"The clubs aim is to raise Rotary's profile and encourage new members from the Portland and Weymouth community, by blitzing local newspapers with Rotary activities."
Rotary Radio UK broadcast a number of special shows on Rotary Day on February 23rd.
The radio station produced some special programmes involving Shelterbox and with Canterbury College students.
They also broadcast special messages from Rotary International President, Holger Knaack, and Tom Griffin, the President of Rotary in Great Britain & Ireland.
Today is #Rotary's 116th anniversary. Throughout our history, our members have served communities at home and around the globe to improve lives. Thank you for being part of doing good in the world. pic.twitter.com/0l4BtjLTHW

— Rotary International (@Rotary) February 23, 2021
Rotary Day was marked with a celebrity-laden online Purple4Polio Tea Party.
The webinar, which was watched by a global audience, was hosted by Purple4Polio ambassadors Konnie Huq and Anne Wafula Strike.
It featured musical performances by past Rotary Young Citizen award winners Grace O'Malley, who is a founder member of the Rotaract Club of London, Jessica May Frost and Bethany Hare.
Polio was also on the agenda of a fund-raising 'Auld Lang Zoom' organised by Burntisland & Kinghorn Rotary in Fife, Scotland, which raised £2,200 for End Polio Now.
Normally in January, the club would be working together to organise its annual Burns Supper, contacting performers and looking forward to a traditional supper of haggis and neeps.
However, this year was different and the members had to think outside the box and find another way.
'Auld Lang Zoom' took place virtually on January 22nd to celebrate the life of Robert Burns. Around 900 people attended the evening which featured a variety of entertainment over 90 minutes.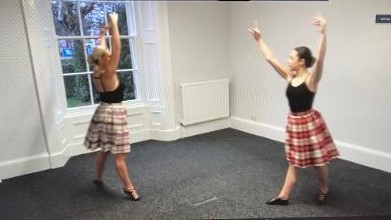 The programme consisted of talented local artists, children and adults who entertained with music, singing and dancing.
During the evening, Assistant District Governor, Janet Lowe narrated a series of two-minute videos giving the audience a taste of Rotary life.
"Technology has helped bring Rotary together during these difficult times and we need to continue taking advantage of these benefits in the future," said Rotarian Elaine Bowie.
In a separate event, Cardiff Breakfast Rotary is hosting a St David's Day evening on Monday, March 1st.
Special guest will be West End singing star Luke McCall, who is the youngest artist to have played The Phantom and Jean Val Jean in Les Miserables.
Tickets cost £5 and to participate click on this link.